SINGAPORE – For the first time in more than 40 years, Housing Board flats will be built on Pearl's Hill in Chinatown as part of efforts to provide a mix of housing options in central locations.
About 6,000 public and private homes, including Build-to-Order (BTO) and rental flats, will be progressively developed on the hill over the next decade.
These homes will offer "unique hillside living in the city", said the Urban Redevelopment Authority (URA) on Friday.
It is also studying the possibility of building public and private housing at Bukit Timah Turf City.
An exhibition displaying plans for new neighbourhoods in Pearl's Hill and Marina South has been launched at The URA Centre in Maxwell Road.
Also on display at the My City, My Home exhibition are conceptual plans for Turf City, Mount Pleasant and the former site of the Keppel golf course, which will form part of the Greater Southern Waterfront, a stretch spanning Singapore's southern coastline from Pasir Panjang to Marina East.
These are part of efforts under the Draft Masterplan 2025, which sets out development and land-use plans for Singapore over the next 10 to 15 years.
One of the four prongs under the draft masterplan – themed Shape A Happy, Healthy City – is an effort to offer a better mix of housing options, to make homes more inclusive, accessible and affordable.
This was adapted from feedback URA received during a review of its long-term plan, which was completed in 2022 to guide development of land-use plans over the next 50 years and beyond.
One of two remaining hills in the city area (the other being Fort Canning Hill), Pearl's Hill will have new BTO and rental flats, condominiums and serviced apartments.
A mixed-use development connected to Outram Park MRT station is also in the pipeline.
Launching the exhibition on Friday, National Development Minister Desmond Lee said developments on Pearl's Hill will have varying heights, sky terraces and rooftop gardens, so residents and visitors can take in views from the hill.
Pearl's Hill houses the former police commander's bungalow and police barracks, which were built in the 1920s and 1930s, and have been conserved for their historical significance.
It is set to be a car-lite district with a network of cycling and walking paths, URA said.
Street-level and elevated connections will be built to offer access to Pearl's Hill City Park and transport nodes, as well as surrounding precincts such as Robertson Quay and Fort Canning Park.
Pearl's Hill City Park will also be upgraded with new facilities and landscaping.
URA added that the barracks could be reused for lifestyle offerings, and its open spaces could be turned into a community node in Eu Tong Sen Street.
The new Marina South neighbourhood, which overlooks Gardens by the Bay, will comprise a mix of residential, retail, office and hotel developments. It can yield more than 10,000 homes.
The 45ha precinct – the size of 63 football fields – is envisaged to be sustainable and car-lite, with pedestrian-friendly streets and a cycling network, URA said.
Elevated routes will also connect Marina South to Gardens by the Bay and the waterfront.
Two land parcels in Marina Gardens Lane and Marina Gardens Crescent, which could yield more than 1,500 private homes, were launched in December 2022 and June 2023.
Asked if there will be public housing in Marina South, Ms Chou Mei, URA's group director of conservation and urban design, said specific housing options are still being studied.
Plans are afoot to offer more homes in other parts of the central region, including Turf City, Mount Pleasant and the Greater Southern Waterfront.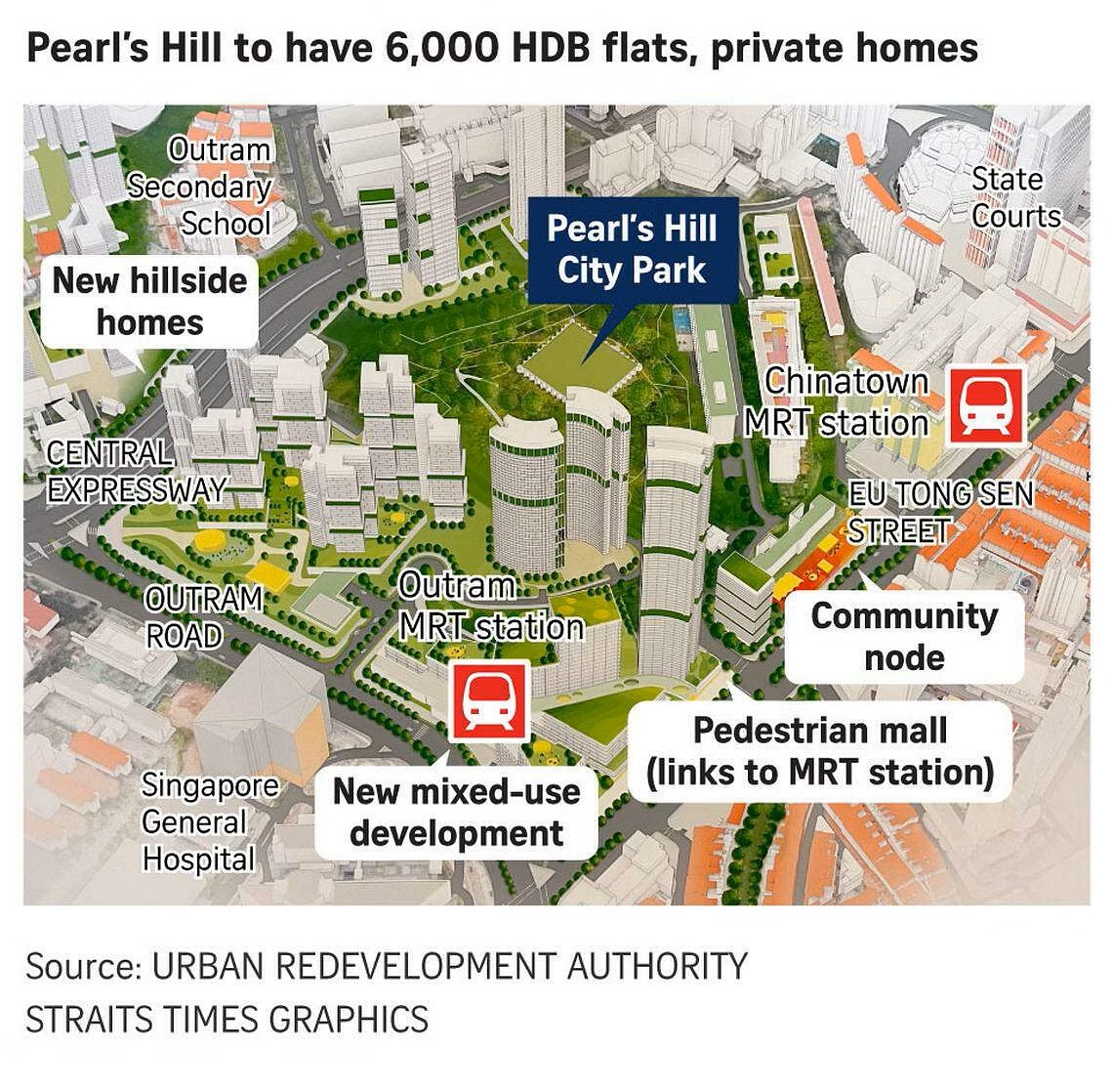 At Turf City, which has been earmarked for residential development since 1998, URA said it is looking into the prospect of providing public and private housing as well as amenities to cater to a range of preferences and budgets.
"The detailed plans for the area are being studied, and new developments will be sensitively integrated with existing nature and heritage assets."
For instance, selected clusters of former racecourse buildings and structures will be retained and repurposed. Areas of ecological value will also be kept.
Mr Lee said URA has called for heritage and environmental studies for Turf City. On the environmental front, it aims to understand the area's flora and fauna, as well as topography – land surfaces – and hydrology, or the movement and distribution of water. The studies are still under way, but the authorities are exploring keeping selected areas in Eng Neo Woods and Bukit Tinggi to form a network of green landscapes, he said.
The car-lite neighbourhood is located near the Sixth Avenue station along the Downtown MRT line. The upcoming Turf City stop on the Cross Island MRT line is expected to be ready by 2032.
At the site of the former Keppel golf course near the coast, about 9,000 new homes are set to be built, of which around 6,000 will be HDB flats. The rest will be private housing.
The first housing parcel on the 48ha site at Bukit Chermin will be launched in the next five years, and will kick-start the longer-term development of the Greater Southern Waterfront, URA said.
At Mount Pleasant near the Central Catchment Nature Reserve, six BTO projects comprising 5,000 homes will be developed over the next decade in a 33ha estate, which is equivalent to 46 football fields. The first project is expected to be launched in 2025.
Heritage elements from the Old Police Academy and pre-war black-and-white bungalows, along with surrounding greenery, will be sensitively woven into the design of the new estate, URA said.
Mr Lee said the development of new neighbourhoods and more HDB flats in central locations would entail higher government spending. This includes its public housing market discounts and grants.
"This is in line with our commitment to keep areas in Singapore diverse and inclusive, and public housing affordable and accessible."
Mr Nicholas Mak, chief research officer of property search portal Mogul.sg, said most flats on Pearl's Hill are likely to be Prime flats, given their proximity to the Chinatown and Outram Park MRT stations and the Central Business District.
From the second half of 2024, BTO flats in choicer locations under the Prime and Plus categories will come with stricter resale conditions, including a 10-year minimum occupation period.
A human resources executive, who wanted to be known only as Ms Koh, 29, said she is interested in applying for a flat on Pearl's Hill, as it is near her workplace in Tanjong Pagar.
"BTO flats in the area give young Singaporeans like me a chance to live in highly sought after locations, which would otherwise be out of reach," she said.
The public can offer their views on the plans for the new neighbourhoods, which will be exhibited until Feb 2.
"Source:[6,000 homes to be built on Pearl's Hill, including first HDB flats there in over 40 years] © Singapore Press Holdings Limited. Permission required for reproduction"