Definition Of The Word Fyve
Before I confuse you any further, let me give you the meaning of the word "fyve" from Wiktionary.
"Fyve: Obsolete spelling of five (5)"
The definition of fyve and five are the same thing. The only difference is that nobody uses fyve these days. I suppose the name was a play on the address and a way to instil the timeless theme for the apartment. Over time, everything else (except for other freehold properties of course) will become obsolete except for the freehold Fyve Derbyshire.
Fyve Derbyshire Location
Fyve Derbyshire is a boutique development located at 5 Derbyshire Road. Derbyshire Road is a one direction primary access with both the entrance and exit connected to Thomson Road. This connection creates a sort of privacy pocket that shields the condos here from the constant noise of the arterial Thomson road. Thereby allowing Fyve Derbyshire residents to get the both of both worlds. They enjoy quick access from Thomson road to the city centre without the noise. Taking a bus ride to One Raffles Quay will only take 20 minutes. If you drive, the nearby access to the central expressway will take you island-wide.
For amenities, a 5-minute walk will bring you to the nearby United Square shopping mall. In addition to the usual supermarkets, restaurants and cafes, there are plenty of kid's offerings at this mall. After all, United Square is the only kids' themed mall in Singapore. Some of the shops catered to children include enrichment centres, toy stores and a whole array of kid's fashion. The mall is extremely crowded on weekends. If you happen to be there during that time, finding a carpark can be a real challenge. However, for residents at Fyve Derbyshire, there is no need to even pay for parking!
Fyve Derbyshire Architectural Design
With just 71 residences, those who enjoy privacy and low-density living will appreciate Fyve Derbyshire. In terms of building design, Fyve Derbyshire is a single tower block housing all 71 units on four stacks. For residents who drive, there are three levels of basement carparks with direct lift access to your home.
If you notice the façade carefully, it has a modern contemporary look with various "fins" placed throughout the entire building. The fins have a dual purpose. Due to the surrounding developments, it is not ideal for placing the units in a traditional north-south facing. Instead, the apartments are in a position where they can enjoy the best views. While doing so, this point-block arrangement will expose units to the effects of either the morning or the afternoon sun. That's when the fins come into play and serve to minimise the consequence of any direct sunlight.
The more important reason, however, is on the individual privacy of each home. I believe you have seen some developments with the curtains permanently drawn. What the fins do is something to that effect of a funnel. The resident can look outwards with ease, but others will have difficulty looking in. Unless perhaps, of course, you are on the same floor level with the same facing.
Approved Balcony Screens For Fyve Derbyshire
The approved balcony screen also serves the same purpose. This screen is an additional option which residents can choose to install if they are not pleased with just the results from the "fins".
Fyve Derbyshire Facilities
As with all boutique developments, facilities are always smaller in scale. Fyve Derbyshire is no exception. The facilities are only located on the 1st level and include a 25-metre lap pool, BBQ Pavilion and outdoor fitness gym. These are the most basic facilities that almost all private residences will have.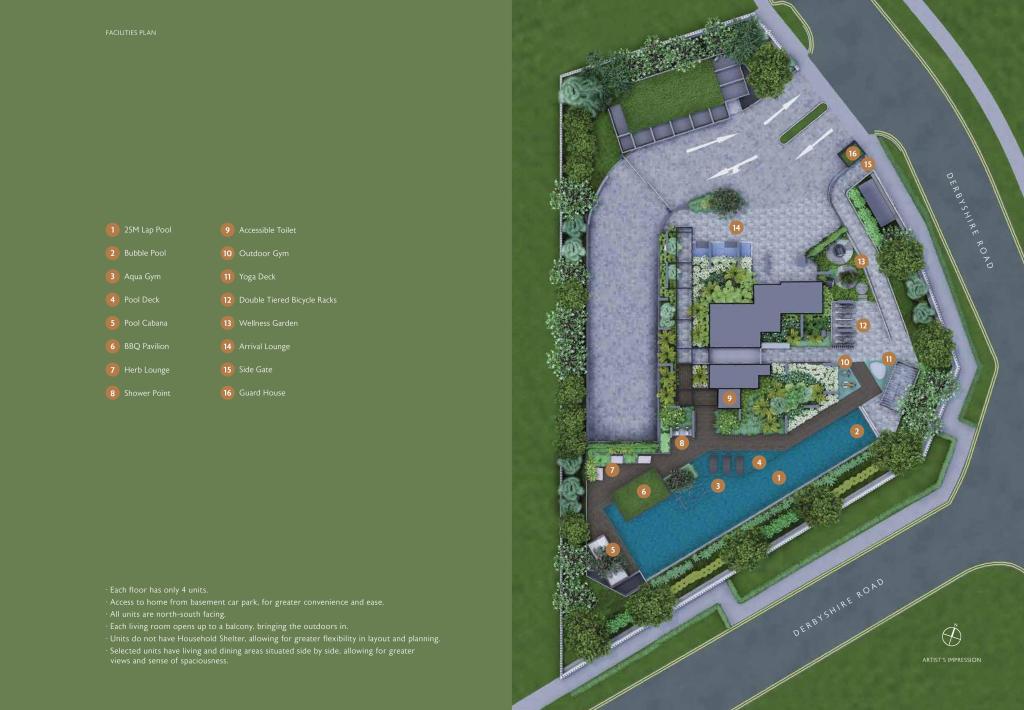 Unit Layout
With just four stacks, there aren't many unit types available to choose from Fyve Derbyshire. Your options are either a two-bedroom(or plus guest) or a three-bedroom. Interesting enough, Roxy Pacific didn't build any 1-bedroom units. If you are in the real estate market long enough, you will know that Roxy Pacific is one of the pioneer developers that started the shoebox revolution in Singapore. A product that was deemed unsustainable and unliveable by those day standards, which ultimately became a staple in almost every new development these days.
The Reason Why There Are No One Bedrooms At Fyve Derbyshire
I believe the reason is simple. Saint Joseph's Institution Junior (SJI) is right at the doorstep of Fyve Derbyshire. SJI is a popular boy's school, and there is always a demand for housing within 1km to the school for enrolment purposes. Since you will always have demand from young families every year, building 2-bedroom units or bigger does make more economic sense.
Additionally, building an extra room is kind of like future-proofing. Imagine you are a young couple who initially do not want to have kids. The extra room is a provision where you need not sell your current place and move to a bigger one if you decide to start a family. If the kids grow up and you decide that you needed a bigger space later, just rent out your current place to the next young family looking to send their kids here!
In addition to SJI, there two other schools which are within 1km from Fyve Derbyshire. One is Farrer Park Primary School, and the other is Anglo-Chinese School (Junior).
2 Bedroom Layout
In Fyve Derbyshire's show flat, there are only two unit types. As such, I will only be writing on these two. First, let's look at the 2-bedroom type A2 unit.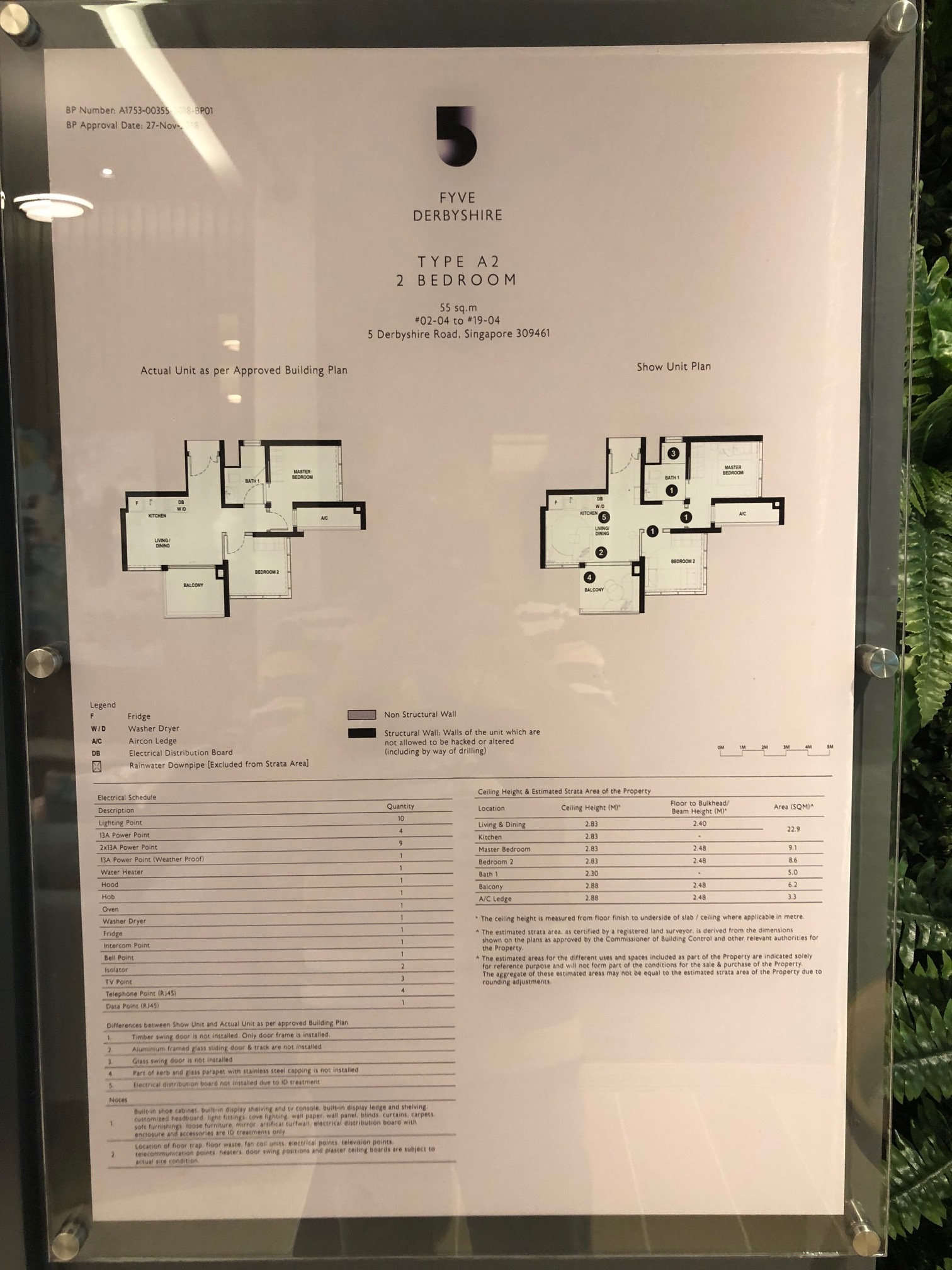 The type A2 layout is a little unconventional compared to the other two bedrooms you have seen in the market. Firstly, the balcony only covers half of the living/dining area. Secondly, the kitchenette is directly beside the living/dining area. Understanding how this layout works would be rather difficult looking just purely at the floor plans. Well, that's also the purpose of this review, to show you pictures of the actual show flat and give you a better perspective.
Rather than outdoor furniture, the developer placed "normal" furniture at the balcony area of the showflat. This placement is likely due to the additional coverage of the privacy fins I have written earlier on. Not only does it serve its earlier function, but the fins also reduce the amount of rainfall into the balcony significantly. If the rain does come in due to strong winds, there is always the balcony screen.
For all the 2-bedroom layouts, the balcony is the only built-in area furthest away from the front door. The bedrooms are also not placed side by side either. I believe the design for this outward protrusion and layering of the bedrooms is to capture any breeze that passes through Derbyshire Road. Think of it like a pinwheel that allows air to flow through.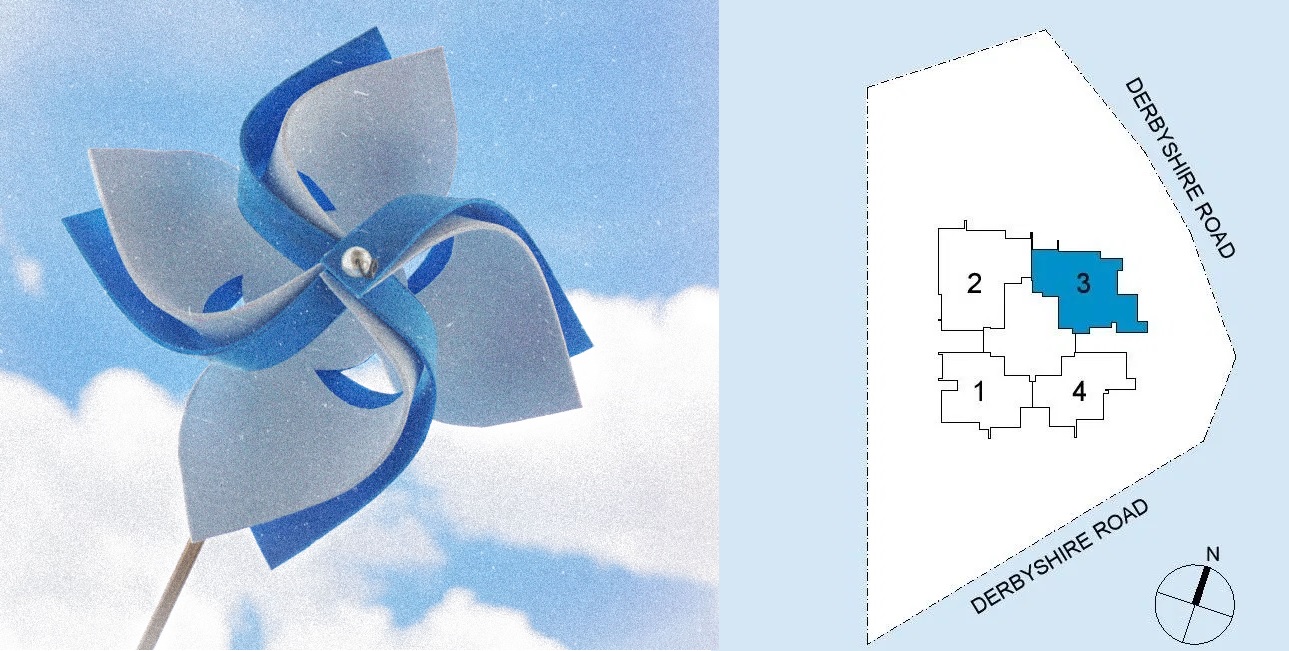 As for room sizes, they are somewhat comparable to the bedrooms for new launches these days. In the master bedroom, you have your standard allowance for a queen bed with two side tables.
For bedroom 2, it is possible to place a queen-sized bed (minus side table). However, since the profile of buyers is likely young families, the developer has opted to place a single bed instead. Giving you an idea of what it feels like with a child in the family.
3 Bedroom + Guest Layout
The other unit in the showflat is the type C three bedroom + guest layout. At 936 sqft, it houses three bedrooms which can all fit in a queen bed (minus side table). As for the guest room, the developer has converted it into a nursery. This layout is ideal for those with two young children. The grandparent can use one of the bedrooms while taking care of the kids. If the kids do grow older, they can each use the individual rooms and convert the guest room into a full-fledged study. The dual function of the guest room extends the lifespan usage of this layout. If you do need to upgrade later to another home, it would most likely be when the children are very much older.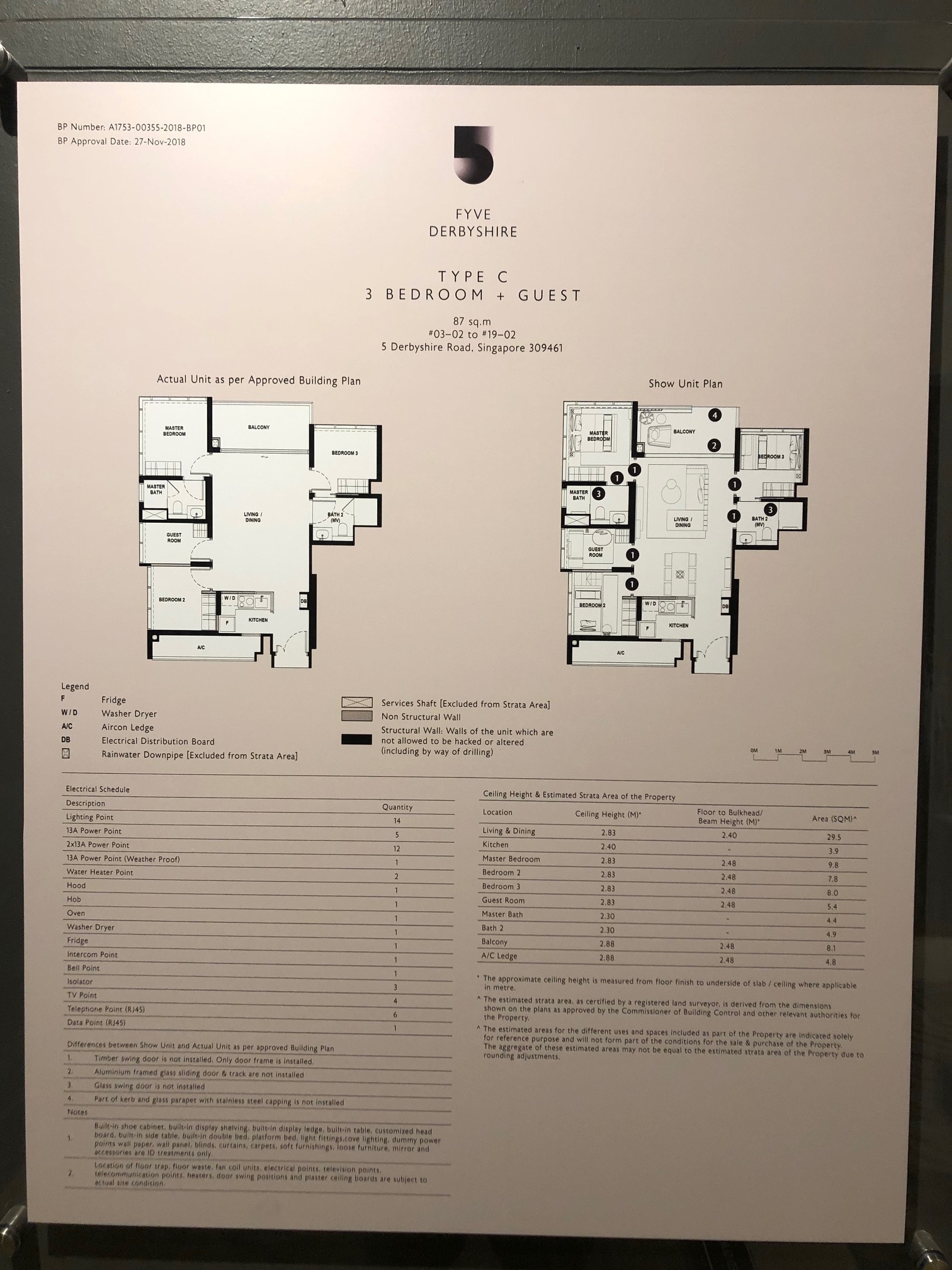 Is Fyve Derbyshire a Good Buy?
One of the key indicators to determine if something is a good buy is always the rental yield. I use the expected rental yield as a determining factor for a few reasons. First, the yield serves as a guideline to understand the rate of return for someone considering investing for rental returns. Secondly, the rental gives you an idea of how much holding power you have. Holding power is crucial because, without it, you might end up in a situation where you have to sell the property cheap. However, as I have explained in my earlier articles, rental yield is not the primary factor for capital appreciation.
Comparing Rental Yield By Using The Nearby Condos As Reference
To give you a better idea of the rental yield, I have taken reference with regards to the next-door Adria and 6 Derbyshire. These two developments have just obtained TOP not too long ago and have very similar sizes to Fyve Derbyshire.
Rental prices at Adria and 6 Derbyshire can vary significantly depending on unit facing. As for prices, they average around $4.5 psf with some units going below $4 psf. Then there are others that fetch above $5 psf. In all my calculations, I always try to give a very conservative figure. For Fyve Derbyshire, I will be using $4.5psf for the two-bedroom units and $4 psf for the two-bedroom + guest/3 bedroom + guest unit types.
Fyve Derbyshire Rental Yield Analysis (2 Bedroom)
Unit Type
Unit Size Use For Rental Comparison
Expected Rental Price
($4.50 psf x sqft)
Property Price
Gross Annual Yield
Initial Investment (25% + Stamp Duty)
Gross Annual Yield On Initial Investment
2 Bedroom
592 sqft
$2664
$1,490,000
2.145%
$416,700
7.67%
Fyve Derbyshire Rental Yield Analysis (2 Bedroom + Guest/3 Bedroom + Guest)
Unit Type
Unit Size Use For Rental Comparison
Expected Rental Price
($4 psf x sqft)
Property Price
Gross Annual Yield
Initial Investment (25% + Stamp Duty)
Gross Annual Yield On Initial Investment
2 Bedroom + Guest
797 sqft
$3188
$1,812,000
2.11%
$510,080
7.5%
3 Bedroom + Guest
936 sqft
$3744
$2,074,000
2.16%
$586,060
7.67%
Summary
As with all freehold developments, yields compared with their leasehold counterparts are always lower. Fyve Derbyshire is no exception. If you are looking for something with a better rental return, leasehold properties might make more sense.
However, if you are looking for a property that is centrally located, freehold, value privacy, minutes' walk to a popular mall and intend to send your child to the nearby SJI. Fyve Derbyshire will be the one that fit your requirements. If you need to understand more on the floor plans, brochure, pricing on Fyve Derbyshire, do visit our microsite at
https://www.fyvederbyshire.cos.sg/
Article contributed by Jerry Wong 

Jerry Wong is a realtor with Propnex Realty. He loves coffee, cookies and condos. Most importantly, he loves connecting people to properties and gets enormous satisfaction when they acquire their dream home. Or make that capital upside in just a matter of months. Buy Jerry a coffee, and he will meet up with you on a 1 to 1 session to share the following
How certain factors affect real estate prices. (Using historical transactions as references)
Applying lessons from history to determine if a condo has the potential for upside or not. These condos can be those under construction, resale or the very one you are staying in right now.
Or just prepare the toughest question you have on your mind! If it is interesting enough, the answer will be in a blog post and shared with everyone!
Other Property Reviews
Those affected by downturn can get help to lower debt burden and defer certain payments Singapore banks have received thousands...
Read More