Why I Chose To Review Kent Ridge Hill Residences.
Recently I received several enquiries from buyers with a rather specific request. They are looking for properties with either a beautiful greenery view or minutes walk to a park. The reasons can be as simple as the enjoyment of staring at a green patch in the morning. Or access to fresh, clean air for someone with a chronic condition. Although Singapore is a garden city and trees and greenery greet you everywhere you turn your head. It also ranks as the 3rd most densely populated countries in the world. As a result of this intensified land use, most of the time, it is challenging to find a property with a greenery view from your very own living room. And if it was available in the resale market, the unit might command a ridiculous asking premium over the current transacted prices.
The Single Most Important Attribute Of Kent Ridge Hill Residences
Kent Ridge Hill Residences is located at 50 South Buona Vista Road in a low rise private residential enclave that is Pasir Panjang. It is also one of only three developments in the entire vicinity with units facing directly into Kent Ridge Park. The other two are The Peak at 39 Pepy's Road and Island View at 38A Jalan Mat Jambol. Both of which are freehold and completed in the 1980s. Out of these three developments, Kent Ridge Hill Residences is the only one with direct access to Kent Ridge Park via its private entrance. Although the previous Vista Park had two access points, the new Kent Ridge Hill Residences will only have one. I believe the architect wanted to create more privacy and exclusivity within the project. Closing this side gate has a dual purpose, create a green barrier for better privacy from the neighbouring landed houses. And channel the footfall to the other entrance to increase privacy for those staying the strata houses. Or perhaps even add-in another facility for the residents to enjoy.
Site Of The Old Vista Park Side Gate 2
Site Of The Old Vista Park Side Gate 1(The New Access Point For Kent Ridge Hill Residences)
What's So Special About Kent Ridge Park?
With a land size of 47 hectares housing secondary forests and abundant plant and animal life, it is a popular destination for bird watchers and tourists. Additionally, Kent Ridge Park is gazetted by the National Heritage Board as one of the historical World War II sites in Singapore. With this much space and history, there are plenty of things to see and do. Just behind Kent Ridge Hill Residences backyard is a children's playground. Correct me if I am wrong, but I think this is the only playground in Singapore that located in a forest.
The reason for naming it Kent Ridge Park is because it is what it is. A ridge by definition is a chain of hills that form a continuous elevated crest over a distance. Long story short, expect lots of stair climbing up and down in this park.
If you are tired from all that stair climbing, little pavilions made for resting are always not too far away.
The main draw of the park, of course, would be the beautiful forest.
After you have explored every little trail and spotted all the birds, more activities await. Directly connected to Kent Ridge Park is HortPark. The greenery at HortPark is more manicured and less "wild" but still beautiful. Again, there are plenty of things to see and perhaps inspire the horticulturist in all of us.
Units with View Facing Kent Ridge Park
Most of the time, residences facing gardens or any other greenery, always face an issue with privacy. After all, parks are public places where everyone has access. If you can look at the park, people can look right back. However, in the case of Kent Ridge Hill Residences, things are a little different. It is a secondary forest, after all. With this natural green wall erected, you are safe from prying eyes.
Kent Ridge Hill Residences Floor Plan
Although more than 50% of the entire project consists of the one and two-bedroom units, there are other unit types available at Kent Ridge Hill Residences. Sizes go up to the five bedrooms + study penthouse as well as strata houses for those with more members in their household. With a wide selection, there is always a layout suitable for everyone. As there is a very long list of floor plans available, I will only select and review those that I find interesting, noteworthy and different from elsewhere.
1 Bedroom/ Bedroom + Study Layout
Most one-bedroom layouts pretty much look the same. Open the door, and the kitchenette is either attached to the left or right side of the wall. Walk a few more steps, and you would have reached the living room. Turn left or right, and there's the access to the bedroom. In this case, however, the developer has made the one-bedroom accessible via two entry points. One from the bedroom and the other from the living/kitchen area. Friends coming over can then access the bathroom without intruding your bedroom space.
2 Bedroom Compact/Premium Layout
There are two variations of the ever-popular two-bedroom units. One is the dumbbell version, while the other one is the classic layout with the bedrooms connected via a common corridor. What I do like about the premium version is the design of the main entrance. The L-shape doorway creates a privacy pocket which prevents nosy neighbours from peering into your unit. What's more, the household shelter is located right beside the entrance. Perfect for those who needed additional space for shoes, handbags, winter clothing or your entire wine collection.
Penthouse Layout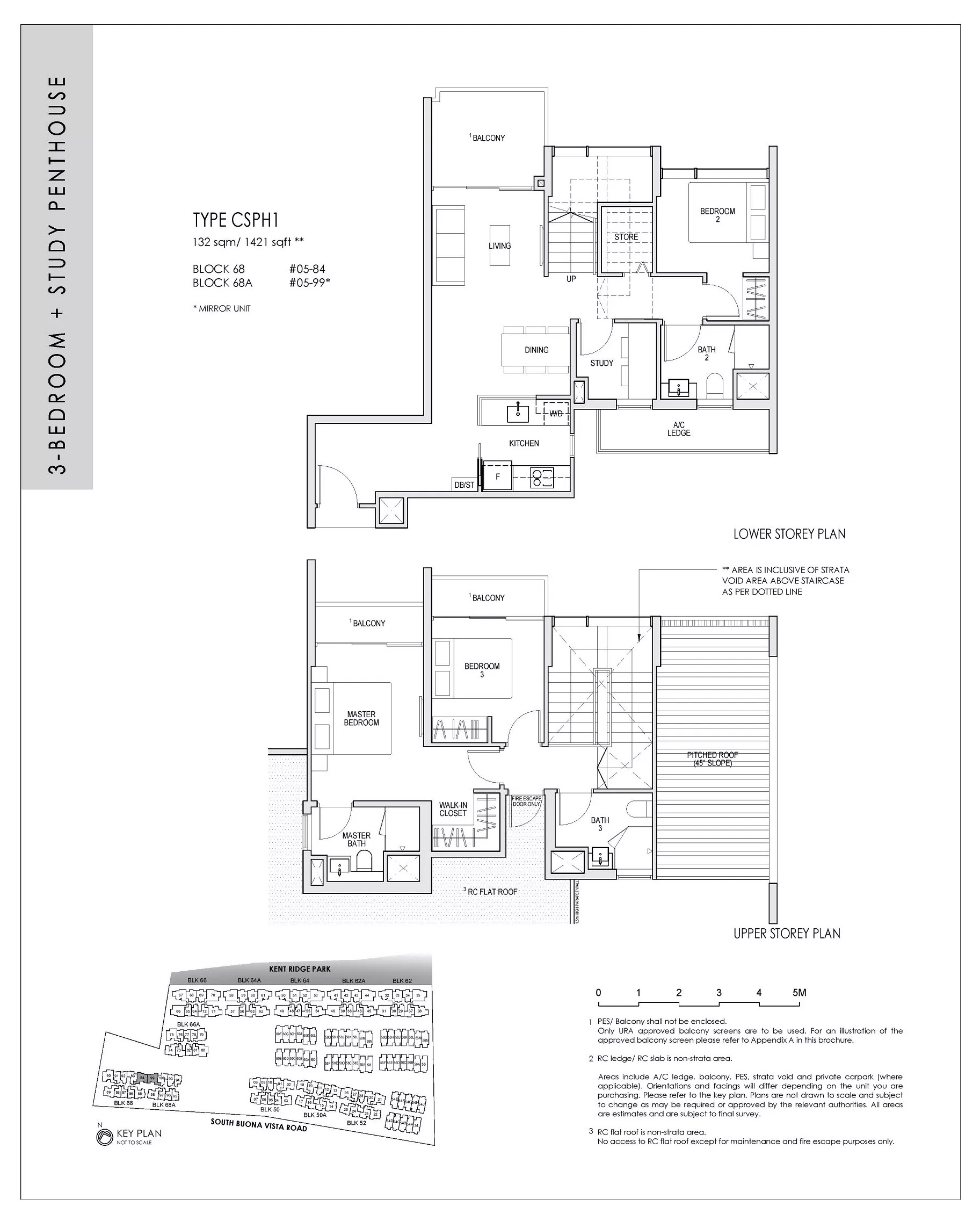 I always get a lot of feedback from penthouse with roof terraces. Some people love it while others think it is a complete waste of space and impractical in Singapore's hot and humid climate. With the forest right at your doorstep, I can imagine the amount of maintenance and leaf sweeping if the penthouses at Kent Ridge Hill Residences were the open-to-sky concept version. I believe the architect understood this and created duplexes instead. Duplexes are a great way to compartmentalise space so you "feel different" when you go to another level, even though you are in the same house.
Strata House Layout
In terms of design, the layout for the strata houses is very similar to that of the duplex penthouses. Living rooms are on the lower level and the bedrooms on the upper floor. The only difference is the provision of a basement level with your private carpark lot, and the unit located on the ground floor instead of the top one. In terms of appearance, strata houses are no different from a landed house. Ownership, however, is very different. For typical landed homes, the owner of the house usually owns 100% of the land the house is sitting on. For strata house owners of Kent Ridge Hill Residences, the calculation is a bit different. Land ownership is a pre-determined value of the entire plot which is divided among every resident, including those staying in the apartment units.
Perhaps due to the similarity of the end product, URA restricted the sale of these homes to foreigners back in 2012. If you are a permanent resident or foreigner, approval from Singapore Land Dealings Unit is necessary to purchase these strata houses at Kent Ridge Hill Residences.
Facilities
With the natural greenery already a backdrop, all the architect needed is to add water features to elevate the development to the next level. Which is what they did. From the arrival at the main entrance to the five zones of water feature distributed evenly throughout the project. I believe what they are trying to recreate is the magic of walking in a forest and encountering a body of crystal clear water with a waterfall in the background. Additionally, there is also the provision of a tennis court. Which is not a common sight in today's new launches.
Location To Public Transportation
According to Google Maps, distance to the Pasir Panjang MRT station is around 700 meters or 9 minutes walk. There are two ways to get there; one is via Jalan Mat Jamol and the other using a series of hidden paths with approximately the same distance. Well, that's the thing about transportation nodes. MRT lines are incredibly expensive to build, and stations are almost always near places with high human traffic or heavy intense land use. You can't have the best of both worlds staying next to a park and getting the MRT at your doorstep. Of course, there are exceptions to the rule such as the UNESCO World Heritage Botanic Gardens and the Gardens By The Bay. Both of which command significant human traffic and are an attraction in itself.
In addition to the MRT, buses such as service 10 will also connect you to the Harbourfront, Vivocity, Tanjong Pagar and Raffles Place. All critical sources of employment nodes where prospective tenants work.
Nearby Amenities
There are a couple of shophouses near Pasir Panjang to cater to your daily needs. These include two minimarts and even a restaurant that boasts of the best curry in the South West.
For cheap eats, Pasir Panjang food centre is just across the road.
The new Bijou mixed development is looking a little empty right now. However, the only F&B unit there was packed during lunch. For everything else, Vivocity at Harbourfront is just three stations away.
Empty Shops at the moment
Is Kent Ridge Hill Residences A Good Buy From An Investment Angle?
One of the most basic calculations to determine if something is a good buy is the rental yield. However, rental yield is just one of the factors that affect capital prices. I have met some buyers who are so focused on the returns that they sometimes forget the bigger picture. What may seem like a good yield now may drop 30% within five years. When that happens, so will your capital. The reverse is also true. If you have read my earlier blog posts, sometimes other factors play a much more critical role when it comes to the capital upside.
To understand what is the rental yield for Kent Ridge Hill Residences, I have taken the nearby Bijou and Viva Vista units for comparison. The reason why I use these two projects is that they are the latest and newest projects in the vicinity with transacted rental prices. Although Bijou ($4.74 psf) is next to the Pasir Panjang MRT station and in theory command a better premium over the location of Kent Ridge Hill Residences. There is also a negative noise element from the West Coast Highway. In the case of Viva Vista ($4.84 psf), unit sizes are smaller. For convenience sake, I will use the lower of the two at $4.74 psf to calculate the returns. Also, because data from these two developments comprises mainly of units 700sqft and below. Only estimated yields of smaller units at Kent Ridge Hill Residences are used in the comparison.
Unit Type
Average Prices
Unit Size Use For Rental Comparison
Expected Rental Price
($4.74 psf x sqft)
Property Price
Gross Annual Yield
Initial Investment (25% + Stamp Duty)
Gross Annual Yield On Initial Investment
1 Bedroom
1677 psf
474 sqft
$2247
$794,898
3.39%
$217,170
12.41%
1 Bedroom + Study
1692 psf
517 sqft
$2451
$874,764
3.36%
$239,533
12.28%
2 Bedroom Compact
1710 psf
646 sqft
$3062
$1,104,660
3.32%
$304,936
12.05%
2 Bedroom Premium
1674 psf
786 sqft
$3725
$1,315,764
3.40%
$366,171
12.20%
Summary
If all things remain constant and you manage to get tenants paying $4.74 psf. It would seem that Kent Ridge Hill Residences can be something to consider with a fairly good return. How about the potential upside or even a downside? Well, I have written an earlier post that nobody can predict the future or time the Singapore's property market. The only thing you can predict with a great degree of accuracy is what is going to happen in the neighbourhood and how it affects prices. From what we can observe, there is a lot more pressure for the developer to raise prices rather than cutting them. To understand how we analyse this, contact us to book a discussion at your convenience.
If you are looking for something that includes proximity to park, layouts that maximise the internal floor area/privacy, short walk to the MRT station and proximity to the CBD. Kent Ridge Hill Residences will be the one that checks all your boxes.
For more information on Kent Ridge Hill Residences such as prices, balance units, floor plans or e-brochures, visit our microsite at https://www.kentridgehillresidences.cos.sg.
Other reviews of condos that are right next to a park!
-Is Kent Ridge Hill Residences A Good Buy?
-Is The Woodleigh Residences A Good Buy?
-The Timeless Masterpiece That Is Nouvel 18
Article contributed by Jerry Wong

Jerry Wong is a realtor with Propnex Realty. He loves coffee, cookies and condos. Most importantly, he loves connecting people to properties and gets enormous satisfaction when they acquire their dream home or make that capital upside in just a matter of months. Buy Jerry a coffee, and he will meet up with you on a 1 to 1 session to share the following
How certain factors affect real estate prices. (Using historical transactions as references)
Applying lessons from history to determine if a condo has the potential for upside or not. These condos can be those under construction, resale or the very one you are staying in right now.
Or just prepare the toughest question you have on your mind! If it is interesting enough, the answer will be in a blog post and shared with everyone!
You can also subscribe to our Facebook page and receive the latest real estate updates in Singapore!
Other Property Reviews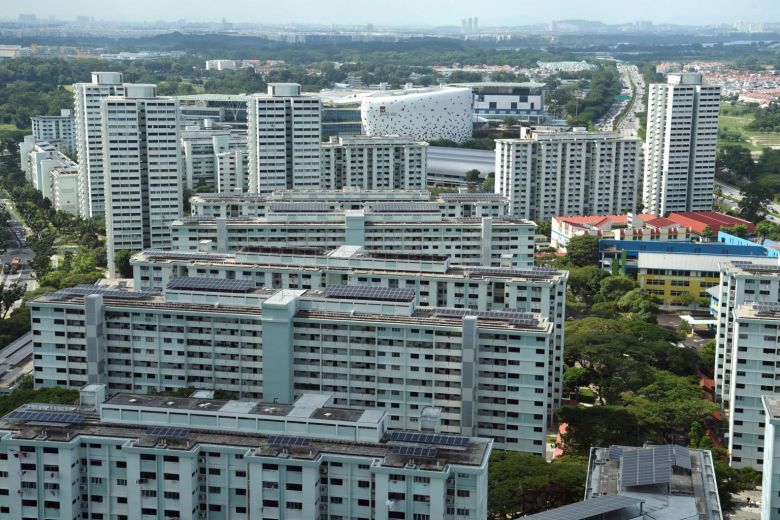 SINGAPORE - The quiet rental market for private condominiums/apartments and Housing Board flats saw a sudden surge in demand last...
Read More