One Pearl Bank-An Iconic New Building with Historical Significance
Today, tall buildings are everywhere in Singapore. From offices, residences to even the world-famous Marina Bay Sands hotels, these skyscrapers have dominated Singapore's skyline. However, in the not too distant past, tall buildings were rare in Singapore. Construction methods were not as advanced, and there was still plenty of empty land Island wide.
Going forward, the government knows that land is exceptionally scarce in Singapore. For a country to develop, tall buildings are an eventual necessity. However, you can't merely place tall buildings wherever you like. There must be some planning that integrates roads, buildings and infrastructure effectively so that everything works efficiently. Back in those days, urban planning was carried out by the Urban Renewal Department, which also sold land under the sales site program. Pearl Bank Apartments was the first all housing project in this program. After its completion in 1976, Pearl Bank Apartments was the tallest and most iconic residential building in Singapore.
Why Pearl Bank Apartments Got Enbloc-ed
Forty years later, the condition of the building wasn't that ideal. Maintenance costs were creeping up. There is also the issue with the effects of the decaying lease. Despite protest from some conservationists, it made more financial sense for the residents to carry out an enbloc sale. That way, they could find another home that was trouble-free with a value that doesn't depreciate every year. With the successful enbloc sale, CapitaLand became the developer of what is now known as One Pearl Bank.
One Pearl Bank Location
One Pearl Bank has a location that needs no introduction. With an address at 1 Pearl Bank, the building is a stone's throw away to Outram MRT Station. Outram Park is not just an ordinary MRT station but is slated to become a triple line interchange in 2021. Once completed, Outram Park will grant access directly to the East-West Line, Thomson East Coast Line and the North-East Line. Commuting to anywhere throughout the island will be a breeze.
Although One Pearl Bank is relatively close to the Outram Park station, there isn't any direct underground access to the condo (like some of the integrated developments we see in the market). However, CapitaLand will be building a series of covered walkways that will shelter you to the train station in all weather conditions. You will never need to purchase another umbrella.
Right Next to Pearl Hill City Park!
Another feature that is rarely seen for condos next to the train station is the proximity of a park. Most of the time, large greenery spaces are always much further away from busy transportation nodes. Unless of course, it is an attraction itself like Gardens by the Bay, Chinese Gardens or even the UNESCO heritage botanic gardens. Residents, however, at One Pearl Bank can enjoy this rare green spot right in the city, just next door.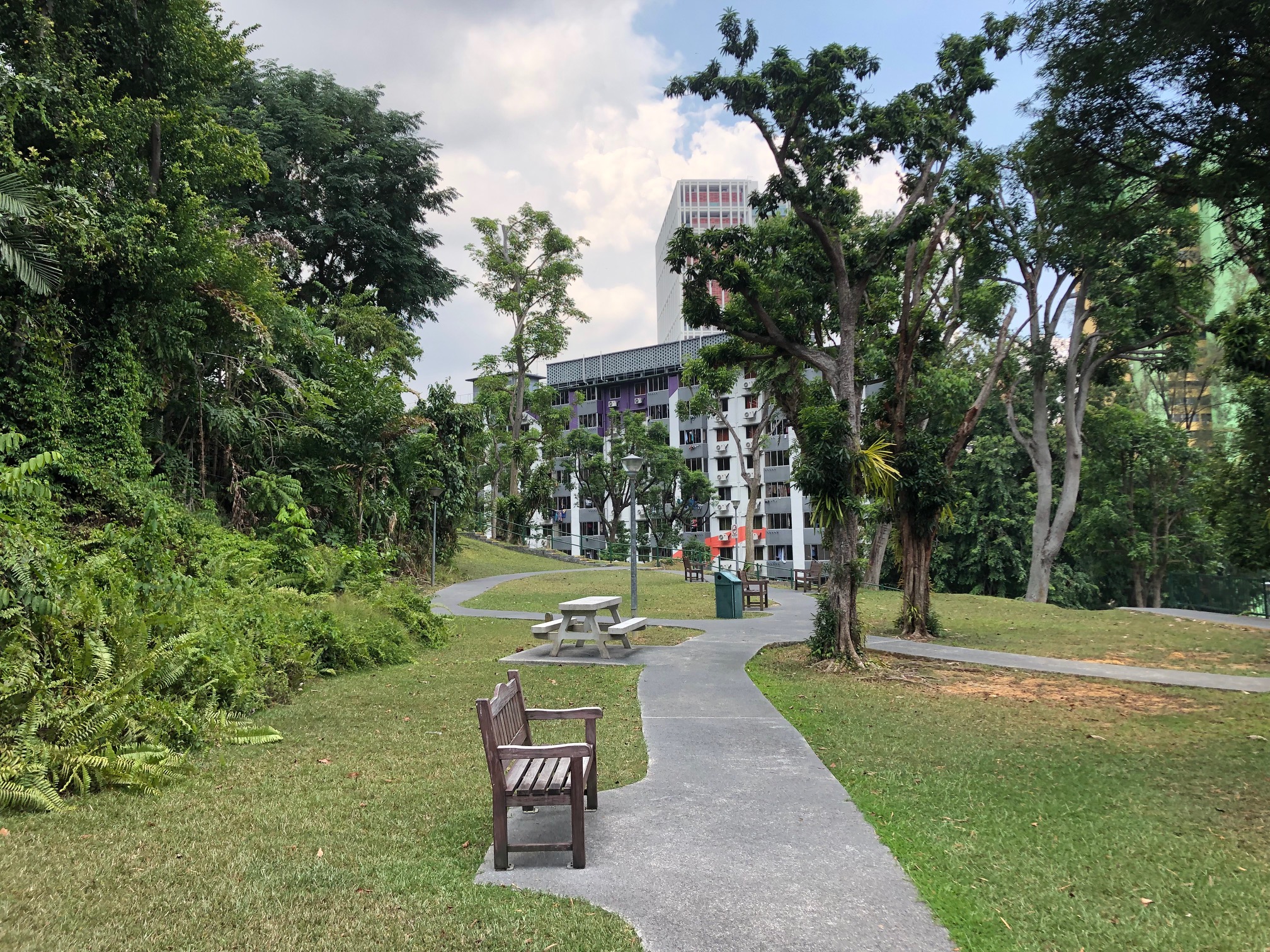 The Views at One Pearl Bank
Due to the impressive building height and the relative distance away from other buildings, the views at One Pearl Bank are incredible. These photos were taken from the old building on the 38th floor. How often do you come across a building next to the CBD that offers a 360-degree perspective of your surroundings? It doesn't matter if you are a resident staying on a lower floor, sky terraces at various levels are always available for you to soak in the sights and sounds of the city. Although the pictures may look impressive, it doesn't give you that "top of the world" experience. The only way to understand this feeling is to visit the Sky Oculus on the 39th floor of One Pearl Bank when it is completed in 2023!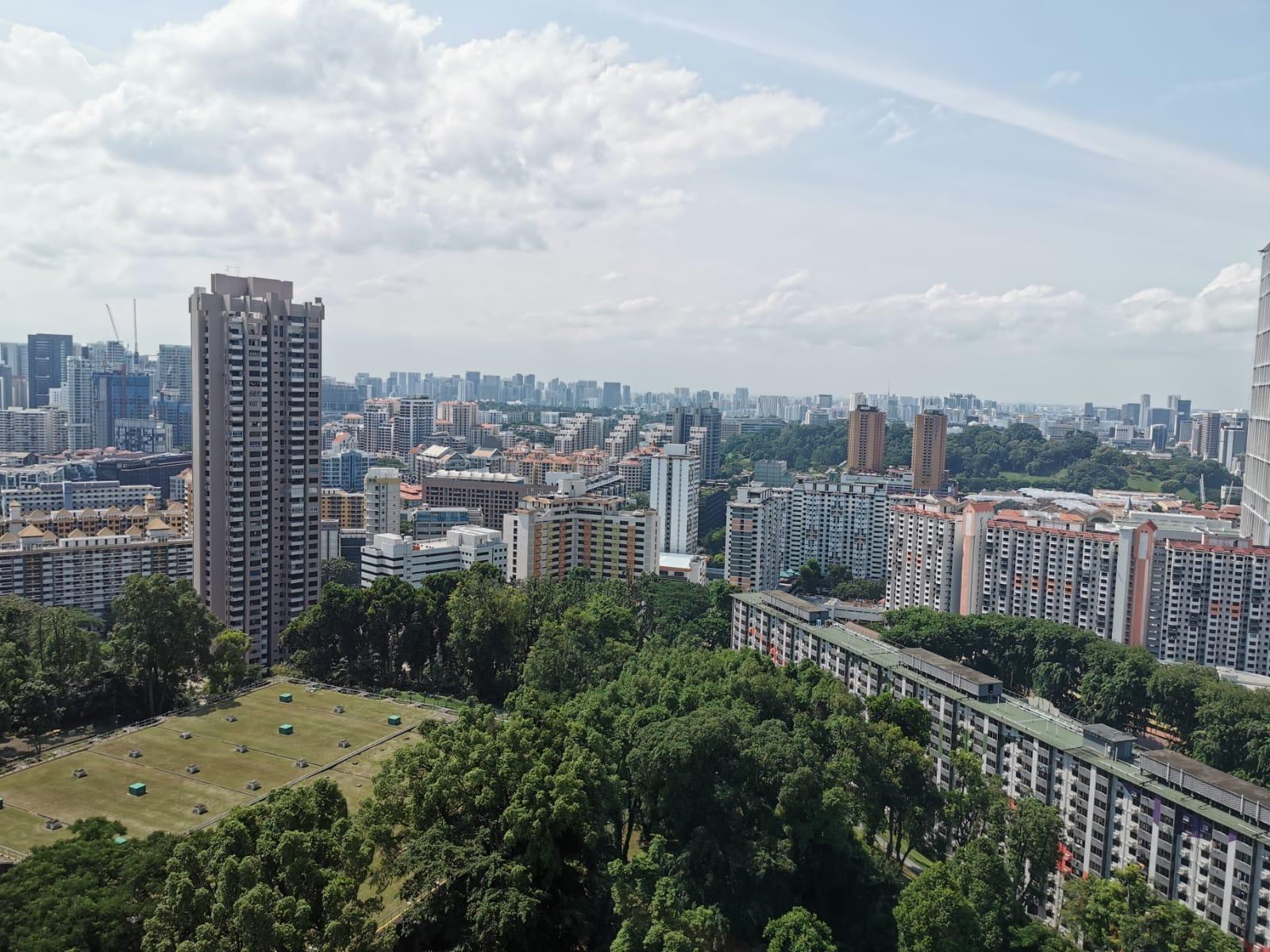 Architectural Design
The previous Pearl Bank Apartment was a 38-storey hollow ¾ cylinder tower, resembling a horseshoe. This innovative design allowed for light, ventilation and maximum panoramic views for all the residents. With such an already well thought out plan, how can the new architect come up with something even more impressive? What's more, the new pearl bank has 774 residences, a much higher number than the 280 units in the original pearl bank apartments. Reusing the initial design will not be feasible.
Same, Same but Different
From my first glance of the photos, it does seem that the new pearl bank looks very much like the old one. However, upon closer inspection, the shape of the building is entirely different. Instead of one single tower, there are two c-shaped blocks positioned at an oblique angle. So, if you were to look at the new pearl bank from a particular perspective, it gives you an illusion of the original horseshoe tower.
I think the new c-shaped blocks are an improved version of the old pearl bank apartments. Firstly, every single resident gets a beautiful view of their surroundings. This is not possible if you are a resident whose unit is "facing inside" of the original horseshoe design. Secondly, natural lighting and ventilation will be very much better as well.
One Pearl Bank Facilities
For a condo with 774 households, there are plenty of facilities throughout the entire development. To prevent overcrowding and maximise privacy, these facilities are distributed throughout the whole project. On the ground floor, there is the standard 50-metre lap pool, BBQ pit and children's playground to cater to the entire family. Then there is the Social Terrace on the 18th floor for those who are looking to entertain guests or host events. If you are looking for some quiet time, there is the Prive Terrace on the 14th floor where you can meditate, do yoga or relax and enjoy the view. Lastly, there is the Sky Oculus on the 39th floor which truly defines what living life on the top means.
One Pearl Bank Unit Layout
In a massive development such as One Pearl Bank, there is always unit layouts catered to every type of household. No matter what you are looking for, there will always be suitable. As usual, instead of writing every single layout there is, I will only concentrate on those layouts found in the show flat.
1 Bedroom 570 sqft
Due to the design of the c-shaped tower block, the individual units can't be squarish. However, if you have visited the show flat of One Pearl Bank, you wouldn't even realise that. This is done by the clever compartmentalising of the living and kitchen area. Clear segregation of these two spaces creates two squares from the original "pizza" shape. As you step from one box to another, it feels completely natural. Since I can't show you any photos of the show flat, here's the floor plan for reference.
2 Bedroom 700 sqft
There are two layout types of the two bedrooms at One Pearl Bank. The first one is the classic version where the bedrooms are beside each other. The second is the dumbbell design, where the bedrooms are opposite each other from the living area. Again, with the compartmentalising of space of the u-shaped kitchen and the living area. You get the same feeling of the "squarishness" stepping from one box to the other.
3 Bedroom 1098 sqft
The 3-bedroom layout is a standard design like what you see mostly in the market. The bedrooms are lined up beside each other. There is also a utility room as well for those who require storage or an inhouse domestic helper. Due to the size, the curvature is rather insignificant. Those who love plants will enjoy the balcony. There is a decent-sized planter box for you to grow your vegetables. If you can't decide what to plant, CapitaLand is giving all purchasers a plant (with soil) to start your gardening journey!
These days, smart home features are ubiquitous for new launches. One Pearl Bank is no exception. You can access facilities booking via the smart mirror interface without downloading another app on your phone. Of course, if you don't like this interface, you can always use it as a mirror!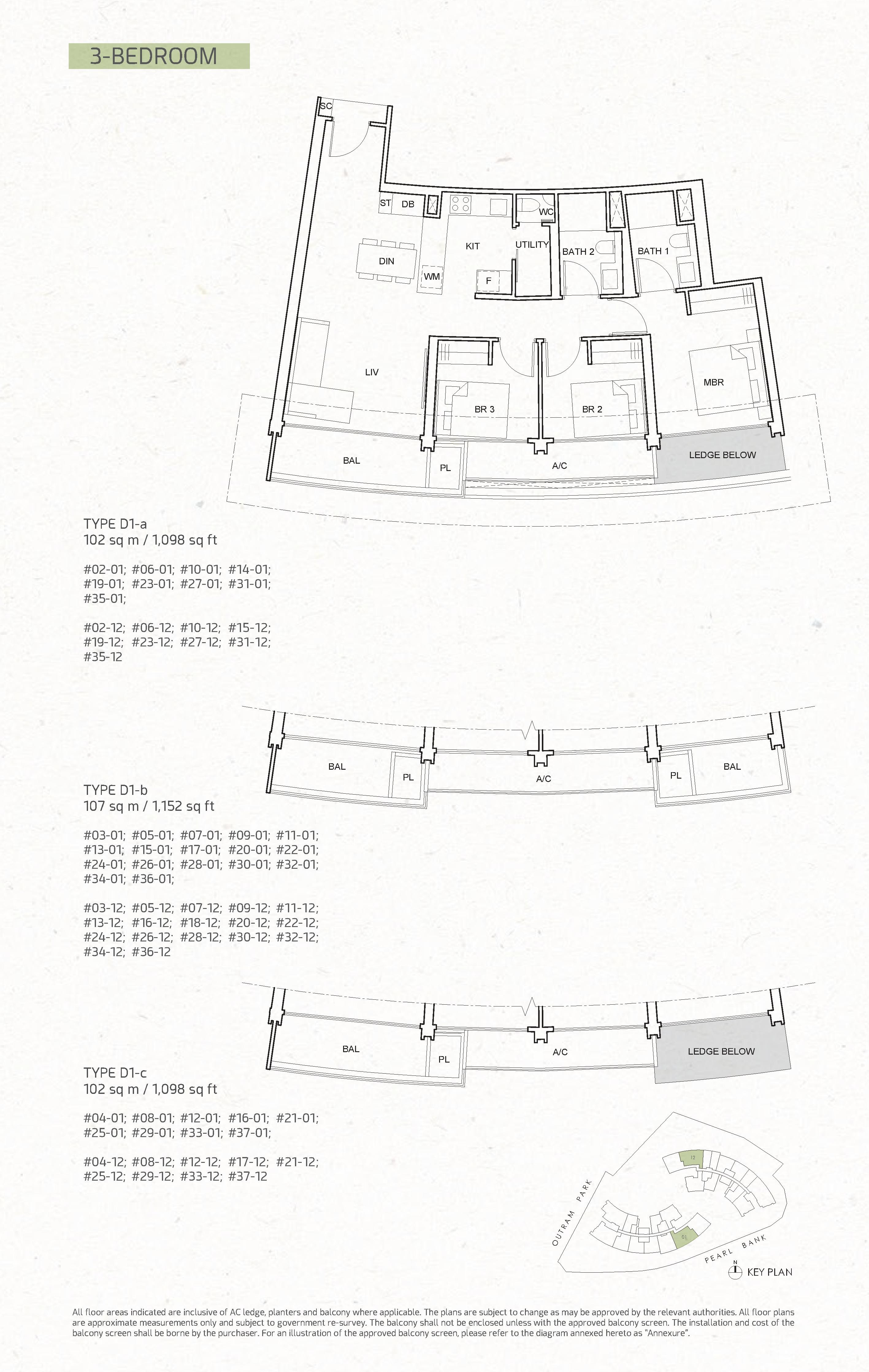 Is One Pearl Bank A Good Buy?
To understand if something is a good buy, I always use rental yield as a gauge. The yield will give you an idea of your expected returns and how much holding power you have. However, it is not the main factor that causes capital upside. To understand if One Pearl Bank has capital appreciation, do contact us, and we will share a more in-depth analysis with you. Meanwhile, let's look at the rental yields.
One Pearl Bank is located on a site where there aren't many new developments nearby for comparison. This is surprising considering that buildings in the city tend to be close to each other. In this study, the rental analysis will use the 68 unit Dorsett Residences as reference. The comparison is not fair due to the different product type but is the closest gauge we can get. Because of the lack of new supply of housing in the area, you can safely say that One Pearl Bank will be a tenant magnet in 2023. There is a possibility that future rental prices can fetch higher than that of Dorsett Residences.
One Pearl Bank Rental Yield Analysis (Studio/1 Bedroom)
Unit Type
Unit Size Use For Rental Comparison
Expected Rental Price
($6.25 psf x sqft)
Property Price
Gross Annual Yield
Initial Investment (25% + Stamp Duty)
Gross Annual Yield On Initial Investment
Studio
431 sqft
$2694
$1,073,,000
3.01%
$295,770

10.93%
1 Bedroom
527 sqft
$3293
$1,313,000
3.01%
$365,370
10.81%
Pearl Bank Rental Yield Analysis (2 Bedroom)
Unit Type
Unit Size Use For Rental Comparison
Expected Rental Price
($5.30 psf x sqft)
Property Price
Gross Annual Yield
Initial Investment (25% + Stamp Duty)
Gross Annual Yield On Initial Investment
2 Bedroom
700 sqft
$3710
$1,597,000
2.79%
$447,730
9.94%
Is One Pearl Bank for Me?
The reason why I love new buildings is that the architect and engineers are always pushing forward in terms of innovation and creativity. Like the previous pearl bank apartments, this new building is also a masterpiece (albeit a better version)  — an iconic feature in Singapore's skyline in the years to come. If you are someone who wants to own a jewel in your real estate portfolio, next to a growing medical hub, direct access to 3 train lines, easy tenability and the opportunity to enjoy the incredible top of the world feeling every day, One Pearl Bank would be something worth serious consideration.
For information on One Pearl Bank such as prices, balance units, floor plans or e-brochures, visit our microsite at https://onepearlbank.cos.sg.
Article contributed by Jerry Wong 

Jerry Wong is a realtor with Propnex Realty. He loves coffee, cookies and condos. Most importantly, he loves connecting people to properties and gets enormous satisfaction when they acquire their dream home. Or make that capital upside in just a matter of months. Buy Jerry a coffee, and he will meet up with you on a 1 to 1 session to share the following
How certain factors affect real estate prices. (Using historical transactions as references)
Applying lessons from history to determine if a condo has the potential for upside or not. These condos can be those under construction, resale or the very one you are staying in right now.
Or just prepare the toughest question you have on your mind! If it is interesting enough, the answer will be in a blog post and shared with everyone!
Other Property Reviews
Was J Gateway a good buy? After all, strong demand saw buyers submitting 1400 blank cheques to ballot for 738...
Read More