SINGAPORE – Prices of Housing Board resale flats showed signs of stabilisation in the third quarter of 2023, rising by 1.3 per cent – a slower pace when compared with the average quarterly growth of 2.5 per cent in 2022.
It is the 14th consecutive quarter of price increase since the second quarter of 2020, according to data released by HDB on Friday.
The price growth in the third quarter was slower than the 1.5 per cent growth of the previous quarter.
HDB said: "We are seeing some moderation in the rate of increase in resale prices since the Government's implementation of a strong pipeline of supply, as well as the cooling measures to promote a stable and sustainable property market."
Such cooling measures include the 15-month wait-out period for private property owners who wish to buy an HDB resale flat, which was introduced in September 2022.
The loan-to-value limit for HDB loans was also lowered twice – from 90 per cent to 85 per cent in December 2021, and to 80 per cent in September 2022 – in a move to encourage prudent borrowing, HDB said.
Ms Christine Sun, senior vice-president of research and analytics at real estate firm OrangeTee & Tie, said the resale market's price growth in 2023 was noticeably slower, at below 2 per cent per quarter.
In comparison, the quarterly price growth was above 2 per cent for each quarter in 2022, and above 2.9 per cent in 2021.
She said: "The trends indicate that the cooling measures and the increased housing supply are effective in taming the price hikes."
Huttons Asia's senior director of data analytics Lee Sze Teck said buyers are still willing to pay more for a flat without resale restrictions in mature estates, which helped to prop up prices.
Under the reclassification of HDB flats that will kick in from the second half of 2024, Build-To-Order (BTO) flats in choicer locations will fall under the Prime and Plus categories, which come with stricter resale conditions such as a 10-year minimum occupation period.
A total of 6,695 HDB resale flats changed hands in the third quarter of 2023, up by 2.8 per cent from 6,514 in the previous quarter.
Based on HDB's flash data, resale volume dropped by 11.3 per cent compared with the same period in 2022, when 7,546 units changed hands.
It is also the lowest volume lodged in the third quarter compared with the same period from 2020 to 2022.
Mr Lee said uncertainties among buyers and sellers led to a smaller-than-expected transaction volume in the third quarter, which is typically one of the busiest periods for the HDB resale market.
He attributed this to the delay of the August BTO sales exercise to October, as well as the uncertain economic outlook as interest rates remain high.
Still, said ERA Singapore key executive officer Eugene Lim, demand for four-room flats remains firm.
He noted that the 15-month wait-out period does not apply to seniors aged 55 and above who move from their private property to a four-room or smaller resale flat, contributing to the demand.
Meanwhile, fewer bigger flats – five-room and executive units – were sold in the third quarter of 2023, said Ms Sun.
"The trends indicate that demand for bigger flats was probably affected by the wait-out period imposed on private home owners," she added.
According to HDB data, five-room flats in Bishan were the most expensive in the third quarter, with a median price of $929,000, up from $880,000 in the second quarter.
This was followed by the mature estate of Queenstown, where the median price of a four-room flat was $928,000. In Bukit Merah, the median price of a five-room flat was $928,000.
HDB data did not provide the median resale prices of four- and five-room flats in the central area, which covers The Pinnacle@Duxton, as there were fewer than 20 transactions.
There were 128 million-dollar flat transactions in the third quarter of 2023.
PropNex Realty head of research and content Wong Siew Ying said that after factoring in the 35 flats that changed hands for at least $1 million so far in October, the number of million-dollar transactions in 2023 totalled 371.
This breaks the record of 369 million-dollar flat transactions in the whole of 2022, she said.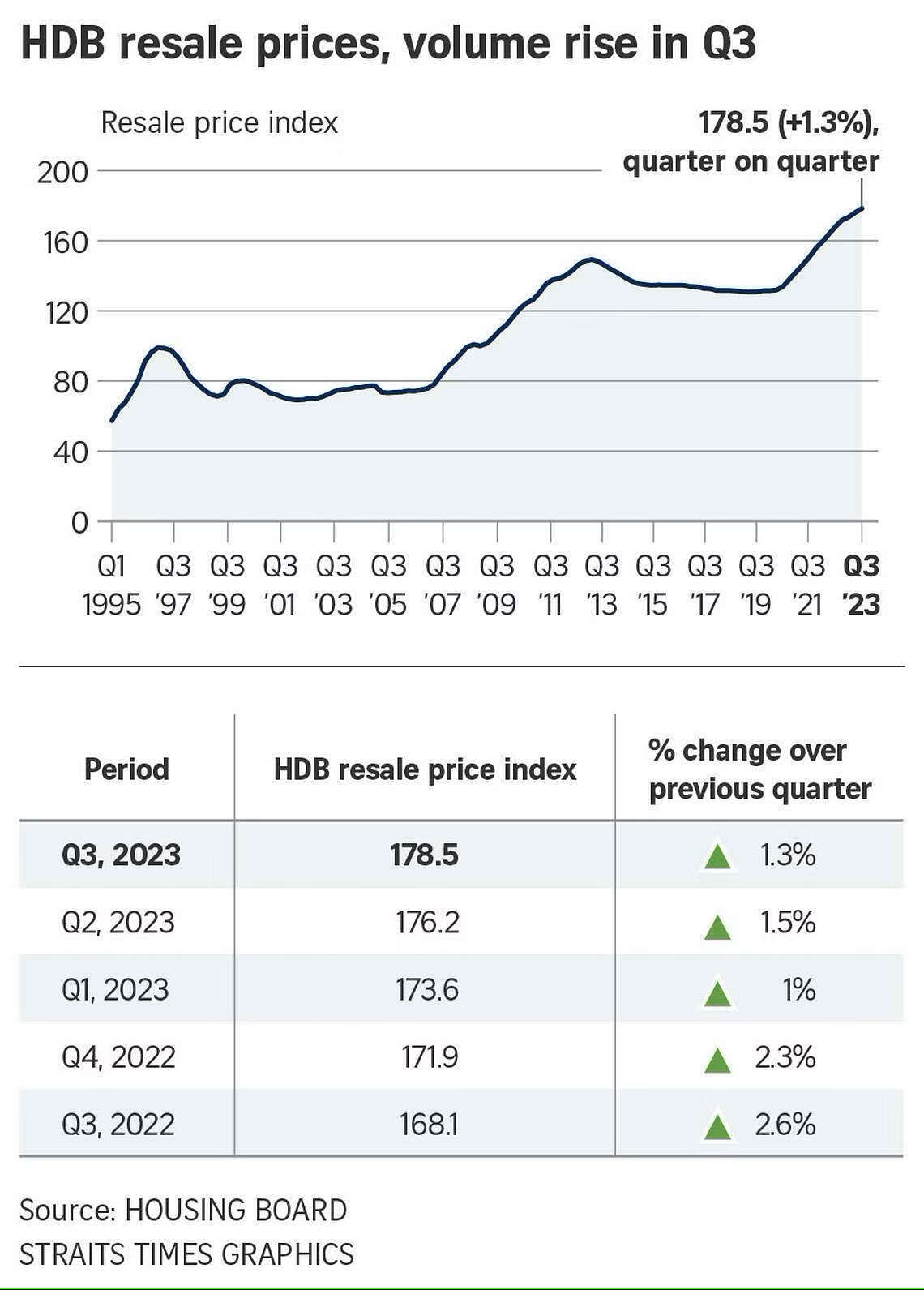 HDB said it has launched about 16,700 flats in 2023, and is on track to launch up to 23,000 BTO units for the whole of the year.
In December, it will roll out about 6,000 BTO flats in towns such as Bukit Panjang, Jurong West, Woodlands, Bedok, Bishan, Bukit Merah and Queenstown.
It advised home seekers to apply for an HDB Flat Eligibility letter by Nov 11 so they can take part in the upcoming BTO exercise.
In the HDB rental market, more flats were leased in the third quarter of 2023 – transactions were up by 1.7 per cent at 57,797 units, compared with 56,858 units in the previous quarter.
"Source:[HDB resale prices rise 1.3% in Q3; slower growth due to cooling measures] © Singapore Press Holdings Limited. Permission required for reproduction"