Price gap between new and resale units in this region stands at 47%, widest in 25 years
The price gap between new private homes and older "pre-loved" ones in the suburbs has widened further on the back of a buying spree from HDB upgraders armed with cheap mortgages.
New homes typically command a premium over resale units, due in part to ever-increasing prices for development land, but the overall differential widened last year to about 37 per cent from 32.4 per cent in 2019.
Drill down into the data from OrangeTee & Tie Research and the differences in suburban areas were even starker, with the gap widening the most since 1995, noted Ms Christine Sun, the firm's senior vice-president of research and analytics.
The price differential between new and resale homes in the suburbs – known as outside central region – where Housing Board upgraders tend to buy, widened to 47.3 per cent, up from an already significant 38.7 per cent in 2019 and 34.2 per cent in 2018.
This came as suburban new home values defied the pandemic to jump 7.9 per cent last year, with median prices of new launches reaching $1,548 per sq ft, compared with $1,051 psf for resale units, said ERA Realty's head of research and consultancy, Mr Nicholas Mak.
Resale prices in these areas rose only 1.6 per cent.
Viewing restrictions amid the pandemic last year also dampened the resale market. During the circuit breaker from April to June, for instance, people were prevented from viewing homes in person.
Moreover, many buyers prefer to view a resale unit to check its condition, while new launches are bought on plan because they are not yet completed, Ms Sun said.
RISING HDB RESALE PRICES SPUR DEMAND
Demand from upgraders could continue this year in the light of HDB resale flat prices leaping 5 per cent last year – the steepest growth since 2012, when values jumped 6.5 per cent, analysts said.
They noted that a slew of HDB policy changes rolled out in the past two years are taking effect, including allowing buyers greater flexibility in using Central Provident Fund (CPF) money to buy older flats, enhancing the CPF Housing Grant, raising income ceilings and allowing larger home loans for eligible buyers.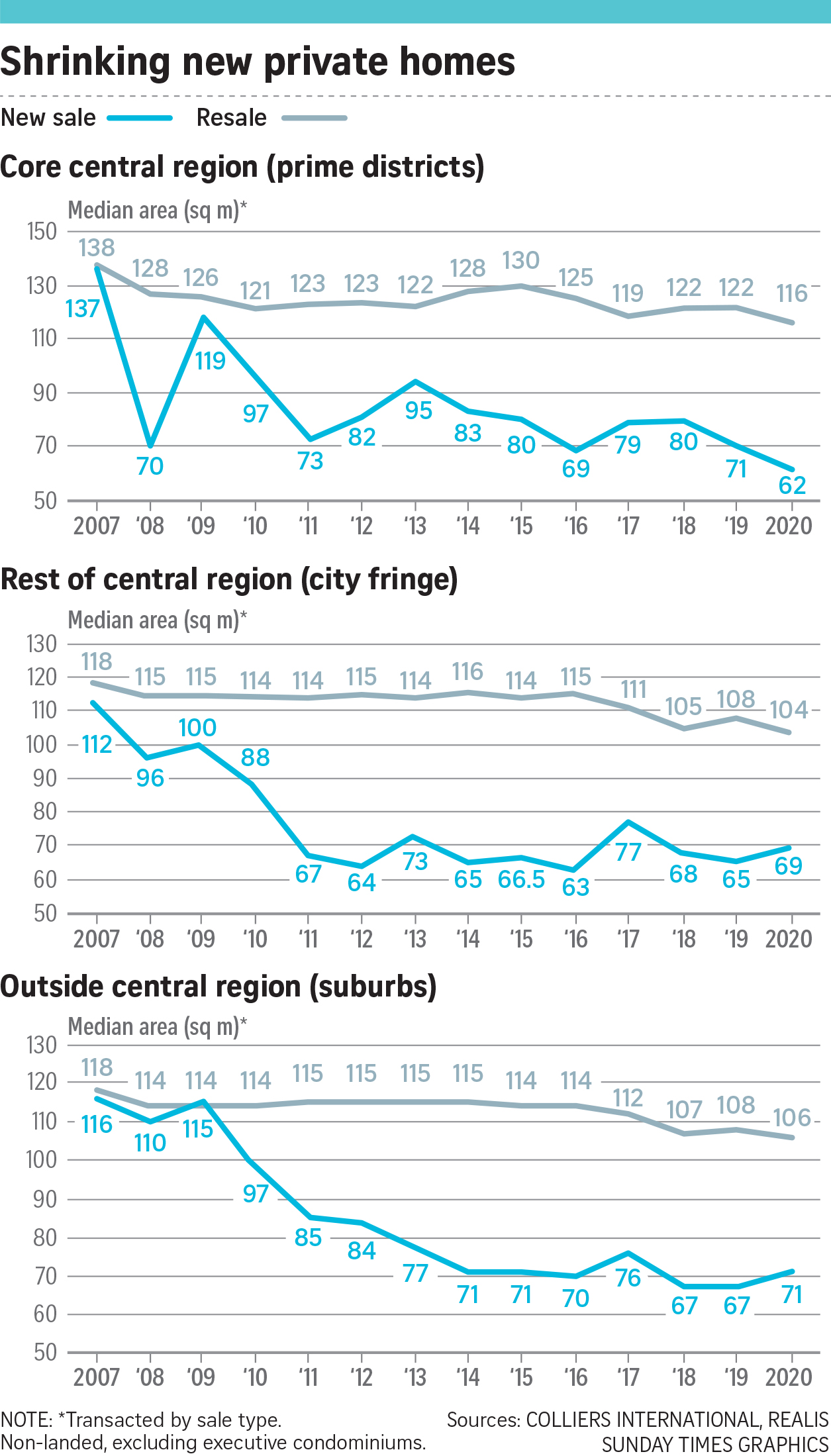 A boost also came from stimulus measures during the lockdown such as the Jobs Support Scheme and legislating temporary measures on moratoriums or waivers on commercial rents, home mortgages and interest payments.
HDB resales hit an eight-year high last year, up 4.4 per cent to 24,748 units sold, from 23,714 units in 2019.
Ms Alice Tan, head of consultancy at Knight Frank Singapore, said many of these buyers were able to enter the private market as they had recently completed their five-year minimum occupation period.
Mr Wong Xian Yang, associate director of research for Singapore and South-east Asia at Cushman & Wakefield, said the initial loan payments for buyers for new launches under construction are much lower due to the progressive payment scheme. This is where home owners pay for a property according to the stage of construction it is at.
Engineer Emilia Wong sold her five-room, 110 sq m flat in Taman Jurong for $570,000 after it reached the five-year point in August 2019. She upgraded to a $1.4 million 95 sq m three-bedder at Le Quest condo last July, a move delayed by a few months because of the circuit breaker.
"We downsized a little, but the condo has a lot of amenities, including a community mall, and our kids love swimming a lot. So, if we can afford Le Quest, why not?" said Ms Wong, 36, who is married with three children.
She and her civil servant husband Md Faizal Salim pay a monthly loan instalment of almost $4,000 for the apartment, after making a 20 per cent down payment with their savings. They bought a new condo unit as they believe the potential for capital appreciation is higher than resale units.
"We wanted to live in the west because our parents live in Jurong and our kids study in schools there. I am working in Tuas and my husband works at Jurong Island," she said.
The couple had considered Whistler Grand and Parc Clematis, but chose Le Quest as it was near completion last year.
However, fewer property launches are expected this year.
Most mega-projects have already been launched in the past two years, said Ms Sun. In addition, the projects stemming from the spate of aggressive land deals in 2017 and 2018 are nearing the peak and are expected to taper off from next year, she added.
IS THE SITUATION SUSTAINABLE?
Analysts said the gap in suburban home prices is unsustainable as resales may start to look appealing to cost-conscious buyers.
A case in point, the prices of new launches in the prime or core central region began to drop last year after the gap widened to as much as 47 per cent in 2018, said Ms Tricia Song, head of research (Singapore) for Colliers International.
So, the same trend may be seen in suburban private property.
"The widening gap indicates resales could represent more value for money on a per square foot basis, so I think more demand will shift to resale homes," said Ms Song.
The resale market could also see more interest if the collective sale market starts to stir as developers are looking to acquire land in the face of dwindling unsold inventory, said Mr Wong.
Meanwhile, the price differential in prime areas has grown narrower, as foreigner buying, particularly in the luxury market, slumped to a 17-year low last year due to global travel restrictions and lockdowns.
The gap between new and resale prices in prime districts narrowed to 37.7 per cent last year from 45.8 per cent in 2019 and 47.2 per cent in 2018, said Mr Mak.
Median prices of new prime district homes sold by developers fell 7.6 per cent last year from 2019, faster than the drop in resale prices over the same period, he added.
Nevertheless, mainland Chinese remained the top foreign buyers of new non-landed homes in Singapore last year.
Some of these buyers may have diverted their funds to property to combat the devaluation of the Chinese renminbi amid the ongoing economic crisis.
To many Chinese investors, property in Singapore is highly attractive in terms of the potential for capital appreciation, Ms Sun said.
While demand in the overall resale market is good, some owners have difficulty selling due to other issues.
PropNex agent Kelvin Tan, who has been marketing a two-bedder at SunGlade in Serangoon since January last year at $1.05 million, said the condo unit's owner has received four offers so far for the 861 sq ft leasehold unit.
"The offers came in at $950,000, $980,000. We also had an offer at $1.02 million in February last year, but the buyer had problems selling his flat, so we couldn't close (the deal)," he added.
"Just two weeks ago, we got an offer of $1.03 million from someone buying for his own stay," Mr Tan said.
But the condo unit's owner, a self-employed businessman, is now in a bind because his condo tenant wants to renew the lease for one more year.
"So for now, the owner can sell only to investors," Mr Tan added.
"Source: [More condo and HDB units leased last month as rents rise] © Singapore Press Holdings Limited. Permission required for reproduction"