A bitter falling-out over a $700,000 property that left two friends at each other's throats is a stark warning of the risks of going into an investment with pals or acquaintances.
It might sound like a smart move to spread the costs and opt for the "safety in numbers" approach, but if things go haywire, they can get very ugly indeed.
The two friends bought a commercial property in 2017 for $700,000 about a year or so after they had met. Sadly, it also took about a year for them to fall out, and this happened after they became joint owners of the property.
The case became so tangled with competing claims over how the initial deal was structured that it took the High Court to sort it out.
One claimed that he owned 99 per cent of the property because his friend, who had the nominal 1 per cent, only came into the picture to apply for the mortgage.
But this friend argued that half the property was his because it was a "50-50" partnership right from the start.
As neither claim was convincing enough, High Court Justice Audrey Lim had the unenviable task of combing through the parties' bank records to apportion their shares based on how much each had initially put into the investment.
The case serves as a cautionary tale about the dangers of making joint investments with people you may not know well because things can get messy, especially if you do not keep good records to support your side of the story.
Even so, if the investment is real estate, you will likely need to go to court if one of the owners refuses to sell or budge from his position.
Fragile partnership without an agreement
The chance meeting of the duo happened in 2016 when a money changer who was browsing at a shopping centre went into a shop selling religious items that was owned by a man who had set up a small Chinese "temple" in his home.
The two hit it off and became friends when the money changer started visiting the man's home to worship, and even became a "volunteer" at the temple.
About a year later, the temple owner made an offer to his new friend that was hard to resist: Help buy a commercial property that would be used as the site of a new temple. In return, his efforts "would be rewarded by the deities and receive a lot of merits".
It was not disputed that both men bought the property to set up the temple, but what was less clear was who was supposed to own what.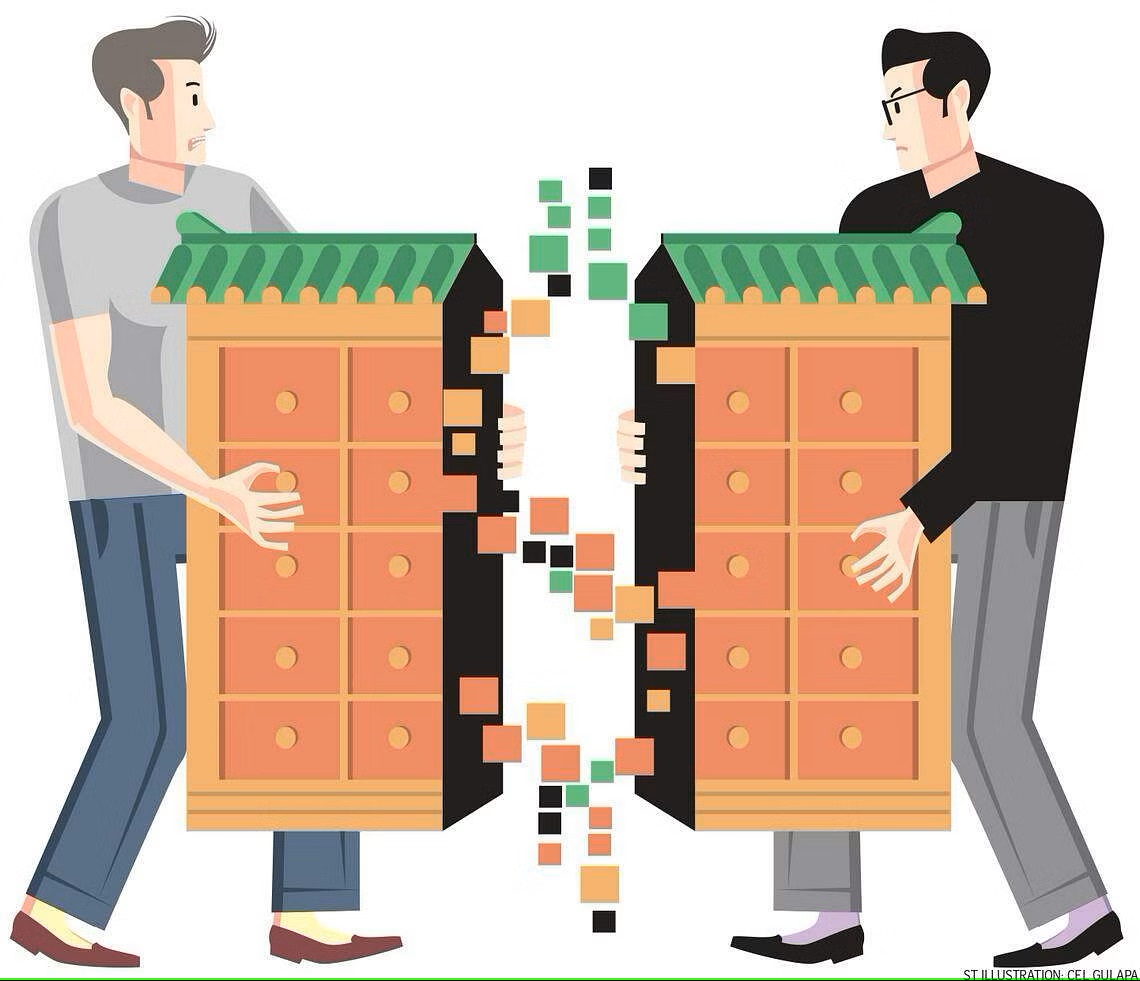 The money changer said that "based on his understanding", they would contribute to the property equally and own it in equal shares.
But the temple owner said he involved his friend only because he would not be able to apply for a mortgage on his own. He claimed that his friend agreed to do so purely to help him with the loan, but would not be responsible for paying for the property.
So he would hold "99 shares" in the unit, with his friend taking the nominal one share.
By August 2017, they had secured a $560,000 mortgage as "joint borrowers" to finance the deal. They also signed a purchase document stating that they would hold the property as joint tenants.
The property was ready for occupation around July 2018 and the temple owner set up his new place of worship. But the good times for the friends lasted for another three more months before disputes flared.
The money changer stopped going to the temple and demanded that his share in the property be returned. When his demands went unanswered and the property was not put on the market, he sued his friend in 2021 in a bid to get his money back.
Shares based on payments
It was found that the temple owner had contributed more in initial payments to buying the property than his friend, in the form of four cheques totalling $165,400 at the time of the purchase in 2017.
He also paid around $26,000 as progress payments and reimbursements to his friend for helping him settle some of the related expenses, bringing his total outlay to about $191,400.
The court found that the friend paid around $13,700 to settle legal fees and some of the progress payments. He initially claimed that he had paid a lot more, but records showed that he had been reimbursed for these payments.
Justice Lim rejected both parties' claims that the property was held in either 50-50 or 99-1 shares because neither could prove their own cases.
For instance, the temple owner claimed that he was the sole owner and that his friend did not need to pay for anything, but there were sufficient records to show that the latter did pay part of the costs. Similarly, the money changer could not prove that he had a half share because the other owner certainly paid a lot more than he did.
Justice Lim noted that both sides claimed to have paid cash to each other, but they could not produce any evidence to support this. "They could have easily kept a contemporaneous record, by obtaining a written acknowledgement or by a simple WhatsApp message, especially given the substantial sums which purportedly changed hands," she said.
Indeed, she found it "unbelievable" that the money changer said he could not produce records of his payments because he had relied on his friend to note these down as they were made.
As a result, the judge had to apportion the property based on their respective contributions at the time of purchase. Both would be deemed to have contributed equal amounts of the $560,000 mortgage, or $280,000 each, as they applied for the loan jointly.
This meant the temple owner would have contributed $471,400 to the purchase while his friend was credited with about $293,700. Based on these payments, the temple owner was given a 62 per cent share of the property, while his former friend had 38 per cent.
As it was clear that their relationship had broken down, and it was no longer feasible for the property to be held in their joint names, the judge said a "clean break would be appropriate".
For disputes involving properties, the assets would normally be sold so that the proceeds can be divided. But if one party wants to keep the property, he or she could apply for a court order to buy out the stakes of the other owners.
There are three important rules that property investors can learn from this case:
If you are investing with another person, make sure both of you share the same view and purpose. Otherwise, you may end up buying out the other's share or be forced to go to court if he or she refuses to sell.
You should make legal ownership clear, either as joint owners (equal shares) or as tenants-in-common based on an agreed proportion of holdings.
You should keep good records of all payments, so if there is a dispute, these papers will enable you to have a better chance of succeeding in your claim.
Finally, ensure that you have sufficient cash flow before you jump into a property purchase because bigger investments often mean higher risks.
"Source:[Pitfalls of buying properties with casual friends] © Singapore Press Holdings Limited. Permission required for reproduction"