About KI Residences
Nestled In Nature, Embraced By Life At KI Residences
A Home Imbued With The Energy Of Life
What Is Ki? This Japanese-inspired concept may well hold the key to living well. On the simplest level, ki is the life force animating us and everything else in the natural world. Harmony follows when we honour this interconnectedness and strive for balance in all we do. Taking inspiration from this, come discover a home that celebrates every facet of life at Ki Residences.
" When we design living spaces, we design spaces that are living — spaces that fill with natural light and air, open to nature and flowing with energy — the fundamental concept of Ki."
Tang Kok Thye Associate Partner ADDP Architects
Nestled Within The Exclusive Sunset Way Landed Estate
Bask in the serenity of the leafy Bukit Timah enclave and yet be not far from the lifestyle playgrounds of Holland Village and Orchard Road.
Revel in expansive grounds with luxuriant gardens and a wealth of facilities providing recreation for all in the family, be it quiet contemplation or active pursuits you seek. Inside every apartment, sanctuary awaits. Delight in panoramas all around with the residential blocks laid out in a single row to maximise both privacy and unobstructed views. Generous windows and balconies invite the surrounding greenery in, so you enjoy the outdoors even when indoors. With your every comfort thoughtfully attended to, sit back and savour this rare find of a home.
A Wam Welcome To All
Pull Up And Feel The Bustle Of The World Recede Reminiscent of a modern luxury retreat, the architecture and landscaping at Ki Residences at Brookvale bring to mind a Japanese-inspired sensibility.
Like an ensō, the drawing of a circle in one continuous stroke, the graceful sweep of the Entrance Plaza welcomes residents and guests alike. Together with the extensive use of materials like timber and stone, these fluid lines and organic shapes further add to the sense of harmony with Nature.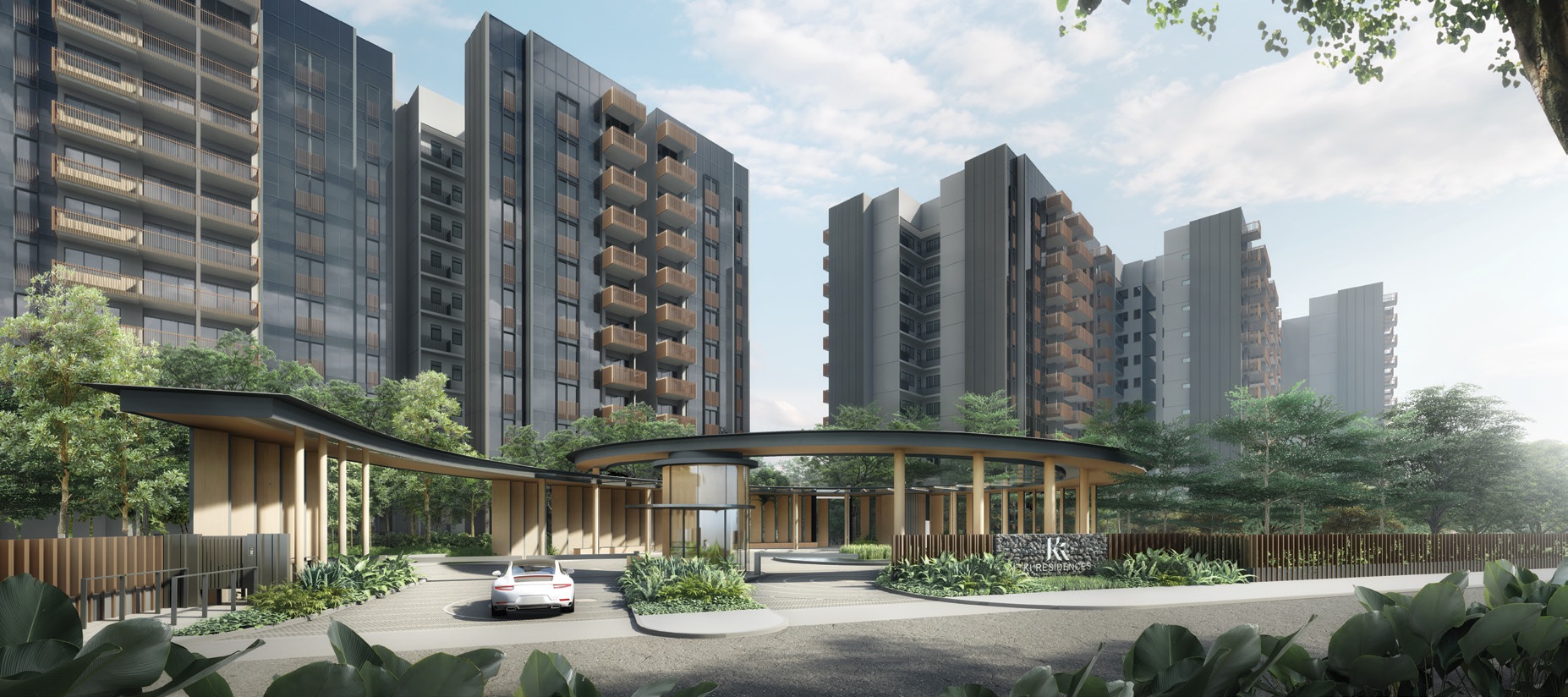 Where The Trees Bear Witness, Generation After Generation
Nature's timekeepers, trees can live hundreds, even thousands of years. With its 999-year tenure, Ki Residences is poised to stand the test of time, just like the trees that reside on its grounds.
Built to be enjoyed for generations to come, here is a home uniquely enveloped by lush landscaping covering 80% of the grounds. A conserved heritage Ficus tree takes pride of place at The Enzo (Clubhouse) which has been designed to circle it, creating a seamless marriage of the old and the new.
Just minutes from Ki Residences are Bukit Timah Nature Reserve and Singapore Botanic Gardens, where trees have stood tall for centuries — and will likely continue to do so.
SERAYA (SHOREA CURTISII)
Bukit Timah Nature Reserve One of the most important species in the reserve, the oldest Seraya found here is reported to be more than 370 years old.
KERANJI (DIALIUM INDUM)
Bukit Timah Nature Reserve This old species was once commonly found all over Singapore in the first half of the 19th century. It is now protected as an endangered tree.
TEMBUSU (FAGRAEA FRAGRANS)
Singapore Botanic Gardens Featured on the Portrait series $5 note, this giant rises to 32 metres and has a girth of 6 metres. It is estimated to be over 200 years old.
Leisure And Pleasure All Year Round
Take your time to explore the expansive grounds spanning over 340,000 square feet. Throughout, myriad water features and verdant foliage come together to recreate the atmosphere of a gentle forest complete with gurgling brooks.
A Walk In The Forest
Set amidst a grove of trees, the Elevated Walkway lets you admire the verdant landscaping from a vantage point on high.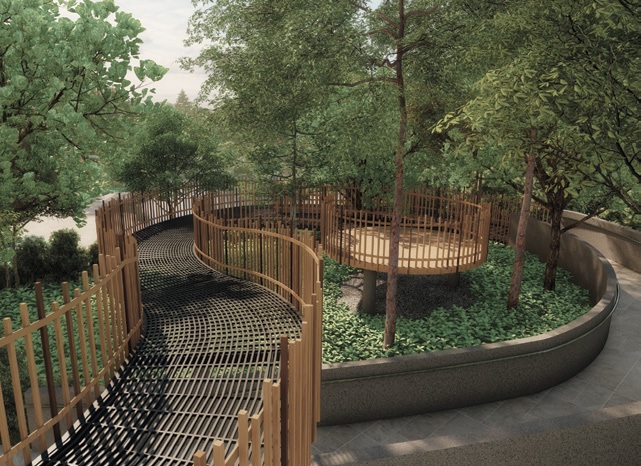 Goodbye Stress
Soothe both mind and body at the Hydrotherapy Shower and Steam Room overlooking the tranquil Rock Pool.
In Step With Nature
With its terraced steps built into the undulating terrain, the Lawn Amphitheatre invites you to take a seat.
Archway To Paradise Stand beneath these arches of hanging Forest Vines, and be transported to a place of calm and quiet.
Stop And Smell The Flowers
Lose yourself in the beauty of the blooms as you take a soak in the White Ion Pool or Hydrotherapy Pool.
"We design landscapes that take you away to a different time and place, for a quality of life enhanced by the preserved genius loci of the site, for young and old. A world where a multi-sensory stimulation of mind and spirit is derived from the flowing brook, the wooded environment and the large heritage trees preserved as a legacy for future generations."
Helen Smith-Yeo Principal STX Landscape Architects
Day In
With more than 50 facilities providing recreational options aplenty, your time at home can be as peaceful or as eventful as you want it to be.
No Kidding
Let the little ones play to their heart's content. With climbing mounds, boulder walls, a rope net, two trampolines and more, the vast Kids' Play Area is sure to be a hit.
Rise To The Occasion
From an intimate get-together to an elaborate party, the Function Rooms at The Enzo (Clubhouse) easily accommodate them all.
Raise A Toast
Invite your friends over for wine tasting at the Private Dining complete with a walk-in cellar that holds close to 2,000 bottles.
Make A Splash
Go pool-hopping over at the happy trio of Toddlers' Pool, Kids' Pool and Family Pool.
Go Glamping
A magical sleep-under-the-stars experience at the Glamping Deck, no need to set up tent.
The Gym is decked out with state-of-the-art equipment from Technogym as well as an unbeatable pool view.
Explore biodiverse landscapes and heritage landmarks along the Rail Corridor, a former railway line.
A UNESCO World Heritage Site, revel in both history and luscious greenery at the Singapore Botanic Gardens.
Well-connected to major arterial roads and expressways, the exclusive Sunset Way estate enjoys easy access to the city, and is but a short 11-minute drive from the business and lifestyle hub of one-north. With the upcoming transport hub at Beauty World, Ki residents will also be able to look forward to an enhanced commute experience in the near future.
Green as well as smart, every apartment at Ki Residences comes with a host of smart home technologies that lets you control key features like the air conditioner and front door access via your smartphone wherever you are, creating even greater peace of mind.
"To weave, to breathe, to dwell… while designing the interiors, we've kept in mind that they should be as delightful as they are functional. Which is why you'll find thoughtful touches throughout the home, from bespoke storage solutions to elegant fittings and finishes."
Hilary Loh Design Director 2nd Edition
Whether you're a couple just starting on your life journey or a young family, here is a home that makes room for you. Thoughtful layouts let you utilise every inch while clever storage solutions keep clutter at bay, including a good-sized storeroom. Never overlooking the little details, the Signature Series units feature premium finishes such as porcelain tile flooring as well as fittings from Bosch and Samsung for the kitchen, Laufen and Hansgrohe for the bath.
Created for the multi-generational family and those who simply like living large, these luxurious units are the epitome of form and function. Welcome home to an uncommon spaciousness and exclusivity, starting with your own private lift lobby*. Adjacent to the living area finished in fine marble, a super-sized balcony serves as its extension or as an al fresco dining spot.
Having guests over? Selected units feature both wet and dry kitchens outfitted with wares from De Dietrich and Samsung, including two fridges and a wine chiller, letting you whip up a feast and entertain in style. Cleaning up is a breeze too with a dishwasher on hand.
At the end of the day, retreat to wellappointed rooms, most of which are designed to accommodate a queen bed at the very least. In some units, a walk-in wardrobe adds a sartorial touch. For those to whom bath time is a ritual, luxuriate in elegant wares from Laufen and Hansgrohe, with selected units offering a full-sized bath and a dual-basin vanity.
Note: Provisions vary across unit types, please see floor plans for details. *Exclusive to 5-bedroom units only.
KI Residences Location Map
KI Residences Street View
KI Residences Transacted Prices