About Parksuites
A Garden Of Possibilities. Where Park Living thrives At ParkSuites
A home inspired by the park-scape, Parksuites is designed to be intimate and will fit right into the close-knit community that has formed in this charming locale. Enjoy more than just sweeping views of the greenery; surround yourself with spaces that open up to nature. It is Henry Park reinterpreted. It is SOHO living like you've never seen before.
SOHO Living By The Park. A Level of Its Own
Take a sip of your favourite cup of coffee every morning. Read a good book while getting a bite of a delicious dessert. All close to home.
At Parksuites, discover an integrated development flourishing with an eclectic mix of speciality shops. From chic restaurants to perhaps one-of-a-kind shopping finds, discover it here.
Shop and dine amidst the cool and welcoming greenery of Henry Park with the comforts of home literally steps away. Truly, a unique setting like no other.
Sophisticated residences meet retail and F&B, set amidst a thriving park. Recreate that Sunday morning feeling, every day.
Tranquility Finds Vivacity. The Perfect Mix.
Unwind with friends by enjoying a few drinks after work. Catch up with family over some good food. Groove to a catchy beat played by some of the coolest bands in the city.
Live within a stroll to Holland Village, Chip Bee Gardens, and minutes from Rochester Park and Dempsey Hill. Holland Village and Chip Bee Gardens belong to Singapore's bohemian enclave, brimming with diversity and life. Enjoy a mix of vibrant bars, cosy coffee shops and gourmet restaurants.
Dempsey Hill offers a wide array of dining possibilities- from cafes to seafood restaurants and breweries. This charming neighbourhood has simply so much to offer, with the Singapore Botanic Gardens and Orchard Road close by.
Connectivity. Surrounded With Life.
Live close to everything that matters most. Situated in Prime District 10 and the tranquil neighbourhood of Mount Sinai, as well as just right in front of Henry Park Primary School, Parksuites offers you a location that brings the world nearer to you. Not only can you get to any point of the city fast, you can have more time with life.
Schools
1-min walk to Henry Park Primary School
8-min walk to Eunoia Junior College
2-min drive to Nexus International School
7-min drive to National University of Singapore
Recreation
3-min drive to Holland Village
3-min drive to Rochester Park
4-min drive to Sixth Avenue
10-min drive to Dempsey Hill
10-min drive to Singapore Botanic Gardens
12-min drive to Orchard Road
Offices
6-min drive to one-north
12-min drive to Mapletree Business City
14-min drive to Central Business District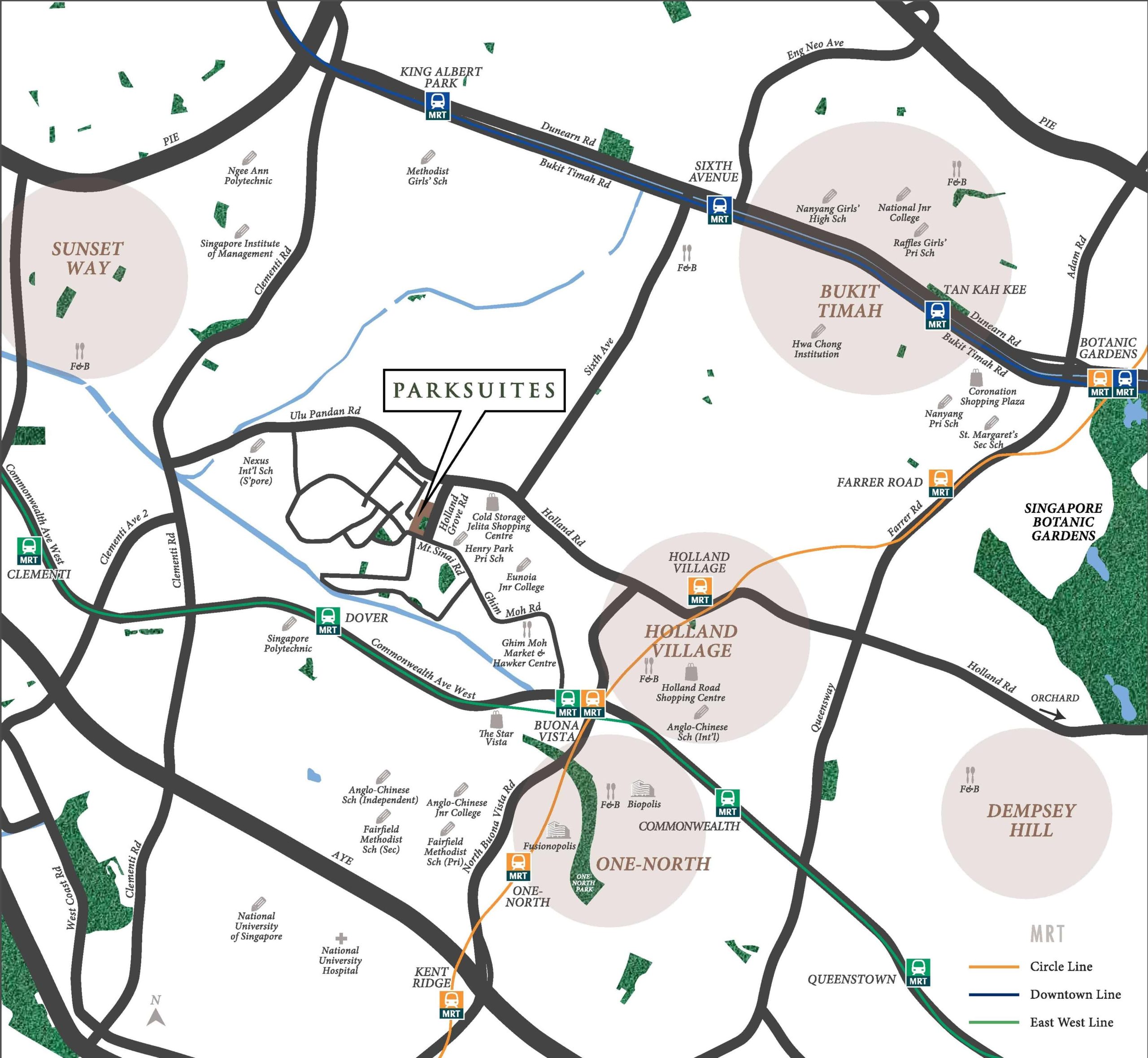 Tranquility and Serenity. Where endless Enjoyment Awaits.
Enter a world that takes care of your family's wellness. At Parksuites, revel in well-appointed facilities. While away in a 50-metre Lap Pool, Kid's Pool, Recreation Pool and Jacuzzi. Work out at the Gym to stay fit. Entertain guests at the BBQ Pavilion and Dining Pavilion. Enjoy serene views of the park and beyond. From now on, look forward to days filled with relaxation and restful moments.
The SOHO. Style And Functionality.
Every SOHO at Parksuites provides functional spaces with selected units offering platform furniture. Choose from a range of 1- to 3-bedroom layouts. All apartments on the 4th Storey feature high ceilings. Additionally, these units are designed to be double-storey, dual-key homes, where the upper level can be tenanted without affecting your privacy.
With your comfort and lifestyle in mind, a wireless smart home hub* is provided in every unit which allows for the possibility of seamlessly integrating multiple devices within the home, bringing innovation and flexibility to you.
The Triplex. Privacy Meets Personality.
Experience true exclusivity with the Triplex homes. With only 5 units available, their rare 4-bedroom Triplexes start from 2nd Storey and continue up to 4th Storey, with the 3rd Storey opening out to a luxurious swimming pool. Each unit comes with 2 individual carpark lots, its own private lift and an exclusive roof terrace.
Park greenery extends into the living spaces in the form of private terraces. These semi-outdoor spaces are thoughtfully designed to suit your distinctive style and taste.
Similarly, a wireless smart home hub* will be provided in every Triplex, allowing for the possibility of seamless integration of multiple devices across all 3 levels.
*The Purchaser will be responsible for initiating arrangements with the third party vendor providing the wireless smart home hub for a one-time setup and engaging an independent internet service provider for the subscription of internet service in the unit.
Parksuites Location Map
Parksuites Street View
Parksuites Resale/Rental Prices