About Sky Eden @ Bedok
Canvas Of Foliage
Sky Eden @ Bedok is an impressive spectacle of vertical frondescence. Sky Gardens cantilever and interlay across 16 storeys of 158 units, culminating in an exceptional architecture that leaves indelible impressions. The property takes centre-stage in the mature estate of Bedok, a mere 3 minutes away from the MRT station and bus interchange. Seamlessly tapping into an established network of amenities including markets, hawker centres and connectivity nodes. And as the first mixed-use development launch in 10 years at Bedok Central, Sky Eden@Bedok represents both a remarkable opportunity and an opportune moment.
A Sky Garden On Every level
Sky Eden @ Bedok is envisaged as an urban oasis in the heart of Bedok. A tranquil dwelling amidst lush greenery while appositely distanced from the nexus of the neighbourhood. With trellis and lush planting along the perimeters assuring privacy, and inviting spaces awaiting in the form of gardens, cabanas and lawns.
To connect you with nature and maximise the verdure of the development, the architect has adopted a biophilic design inspired by the characteristics of Polypores. Leading to the creation of Sky Gardens that interlay between the different levels and form a visual connection of greenery. Each providing a serene environment for you to socialise or enjoy moments of quietude.
A Garden Next To Every Home
It greets you with the fresh morning dew at every break of dawn, and offers a calming respite as each day draws to a close.
The Sky Gardens ascend skywards right from the ground up, breaking out of monotony while drawing admiration both near and afar.
Grow More Love For Nature
Designated as social spaces between neighbours or solitary retreats for individuals, the Sky Gardens are akin to sanctuaries where both man and the environment can flourish. A tropical palette in mixed and naturalistic form lies undisturbed in the background as lookouts towards the surroundings make for a pretty picture.
As Nature Lines Each Corridor. A Garden Opens Up On Every Level
The Sky Gardens are designed in clever response to the profile of the landscape planters and space articulation on every level. Paving the way for a distinctive and serene garden environment that invites you to enjoy a leisurely time painting, having an outdoor picnic while sheltered from the elements, or befriending neighbours over coffee or tea.
Conveniences Of The Mature Estate, Luxuries Of Garden-Inspired Living
Arrive & Embark
An intimate drop-off point with a private residential lobby ensures that each day starts off on the front foot, and concludes on a warm and welcoming note.
Where Lifestyle Meets Conveniences
To achieve a fine balance between tranquility amidst conveniences, a retail podium right below the development and along the pedestrian level provides easy access to necessities. This means that impromptu coffee runs and quick beauty sessions are all possible without leaving the comforts of home.
Complemented By Modern Amenities
You can look forward to a modern line-up of amenities such as restaurants, specialty cafes, and health & beauty services. Additionally, covered walkways will lead you under sheltered comfort to more hawker options towards Bedok Reservoir while further retail stores can be found along your walk to Bedok MRT.
Wellness Is Well Deserved
Take a dip in the Infinity Lap Pool. Or get a quick work-out over at the Gym. A balanced lifestyle is key to one's overall well-being.
Find Yourself While Forging Cherished Connections
The Social Clubhouse features a Kitchenette and Private Lounge where great conversations and hearty meals are best enjoyed with greater company.
Everyone Needs A Little Space, Every Now And Then
Much like how the development is segregated from the hustle and bustle, the Function Lawn deviates from the clutter of amenities on the Landscape Deck. Paving the way for an open space that could be utilised for recreational and social purposes.
Feel Calm, & Be Inspired
For moments of quietude or concentration, the Co-work Sanctuary is situated in a serene corner of the property right along the Lily Pond. Adjoined by a Co-work Patio and complete with individual work pods and a conference table that fits up to 5, this zone is designed for minimal distraction and optimal productivity.
Tucked right beside it is the Community Farm Garden where urban farming is encouraged and neighbourly ties are nurtured.
A Backdrop Of More Amenities Awaits
Central To Locations That Are Key
Sky Eden @ Bedok's address puts you right in the middle of the estate and within stone's throw of main transport nodes Bedok MRT and Bedok Bus Interchange. With linkages to park connectors and the ever-popular East Coast Park, connectivity to and fro nature enclaves will be a breeze.
Right At The Heart Of Bedok Central
Living centre-stage in Bedok means you get more than just access to conveniences. The amenities that the neighbourhood enjoys now revolve around you instead. Banks, hawker centers and supermarkets are all within proximity while eclectic stores such as a Record Shop and Skate Outlet are like hidden gems unearthed, specially for you.
Relax In A Heartbeat
What better way to immerse yourself in the neighbourhood than at the heart of it all? Heartbeat@Bedok, which features a 3-storey library and a polyclinic, is a town-level community avenue aimed at promoting active and forward-looking lifestyles. Complementing the lush and tranquil settings back at home in Sky Eden @ Bedok.
Thanks to an ActiveSG Sports Centre, the community enjoys access to facilities including an indoor sports hall, sheltered tennis courts and an Active Health Lab. Those in their twilight years can call upon the trusted services of an NTUC Silver Circle Senior Care Centre.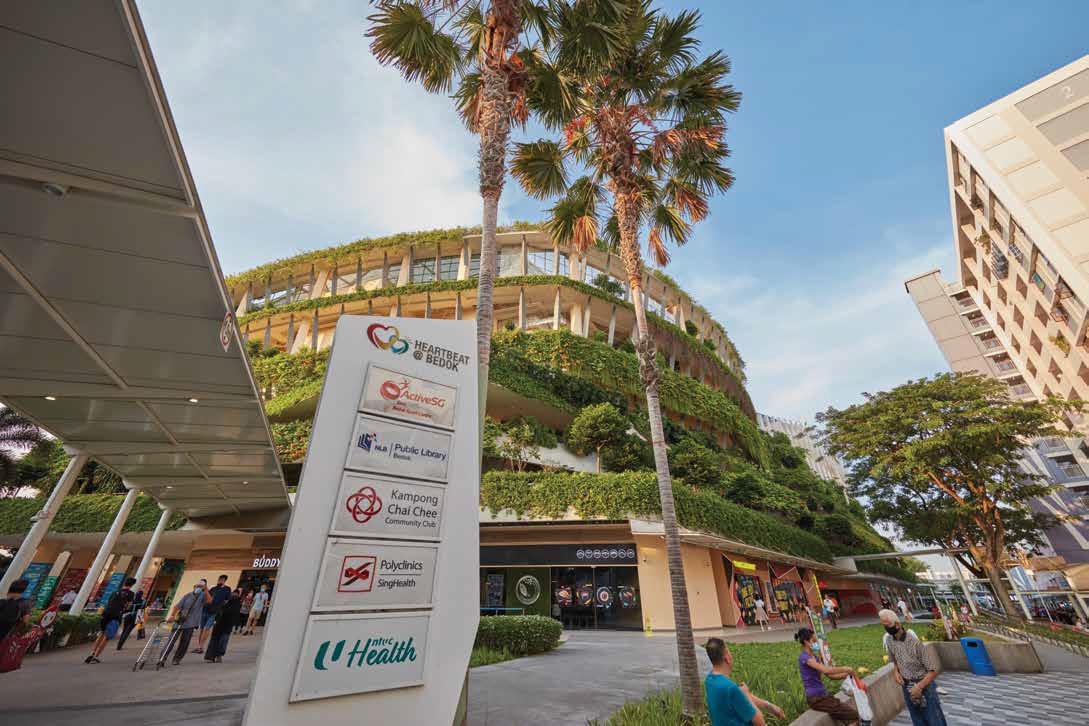 Food For Thought And The Soul
The neighbourhood of Bedok is every foodie's paradise, with an endless array of gastronomical delights that will keep you happy and full, from dawn to dusk. Local hawker fare is easily found in every corner of the estate, while late-risers are warmly welcomed for brunch at the numerous cafes. And as darkness begins to fall, you may even slip away for a happy hour or two.
Explorations As Boundless As The Seas
Under URA's Master Plan to revitalise the east coast, Sky Eden @ Bedok reaps the same added conveniences and amenities that the upscale Bayshore Precinct enjoys. Supplementing the wealth of green spaces will be the inclusion of a new linear park with heritage sea walls and a sea pavilion, while connectivity to the ever-popular East Coast Park is enhanced with a 4km Outdoor Play Corridor that starts from Bedok Reservoir. And to protect Singapore's coastline, a "Long Island" along the south-eastern coastline from Marina East to Changi would see coastal protection measures integrated with future land reclamation. Future developments could include residential homes, parks, recreational spaces and a new reservoir.
Thrill-seekers can revel in an exhilarating selection of activities over at the recently completed HomeTeamNS Clubhouse, while jet-setters can get excited come 2030 as the new Terminal 5 at Changi Airport is slated to handle up to 50 million passengers a year.
Poised For Business
Sky Eden @ Bedok is strategically placed for business, with an address right in the middle of key work-live-play destinations.
Train commutes eastwards will take you to Changi Business Park and its research and technology-driven institutes just 2 MRT stops away. Meanwhile, the light manufacturing hub of Paya Lebar Regional Centre is located 3 MRT stops away in the opposite direction. Travelling to the core of the CBD is a breeze as well with Marina Bay Financial Centre reachable in a mere 18 minutes via the ECP.
Limited Collection Of Unlimited Possibilities
With layouts modelled for efficiency, you can plan and design a home that best represents its most invaluable element – you.
A Bright & Breeze Home
Besides maximising the north-south orientation of the apartment units, Sky Eden @ Bedok's facade reduces solar heat gain so that temperatures remain cool and home is always a welcoming respite.
Palatable By Delighted By Delights
Satiate your appetite for life, and the most appetising moments, around the dining room that enjoys abundant sunlight and breeze.
2-bedroom units include the thoughtful addition of a Linen Closet that offers hidden storage space for a washing machine, an ironing board, and even a power outlet to charge your vacuum cleaner as it is tucked away.
The Finest In Every Detail
Designer fittings such as Hansgrohe faucets and Bosch appliances are what truly define living on the finer side of life.
What Benefits The Environment Inherently Benefits
Sky Eden @ Bedok respects the environment we live in, and is designed to cater to sustainability and biodiversity. It reciprocates in wonderous ways that both we and our loved ones can enjoy and appreciate.
Sky Eden @ Bedok Location Map
Sky Eden @ Bedok Street View
Sky Eden @ Bedok Resale/Rental Prices