About Solitaire on Cecil
The Visionaries
"A modern product designed to meet the needs of businesses competing for the best talent, Solitaire on Cecil is our vision for world-class, institutional-grade workspaces where occupants can collaborate, innovate, learn and socialise in a secure, technology-enabled and sustainable environment. Located within the CBD cityscape, it is an ode to the city's many facets."
Emilia Teo
Managing Director, TE Capital Partners

" Solitaire on Cecil is a welcome addition to our portfolio — an innovative and modern freehold building with premium specifications. Aiming to achieve the top-tier BCA Green Mark Platinum certification, the new development is designed to minimise adverse environmental and social impacts while maximising investment performance."
Marc Montanus
Senior Managing Director, Fund Management,
LaSalle Investment Management
A Future Icon on Cecil Street
Solitaire on Cecil is a rare premium freehold Grade A commercial development in the heart of the vibrant Singapore CBD. Strategically located on 148 Cecil Street, the development is adjacent to a vibrant Telok Ayer and Amoy heritage precinct, where beautifully decorated shophouses weave modern work culture, rich history and social life together. Today, the area is a well-established commercial district comprising office buildings, a myriad of restaurants, retail offerings and top tier hotels.
The area is poised for further rejuvenation with the introduction of the CBD Incentive scheme by Urban Redevelopment Authority. Given its strategic location at the nexus between Raffles Place and Shenton Way, as well as abundant F&B offerings in nearby Telok Ayer Street, Amoy Street, Club Street and Chinatown, Solitaire on Cecil is set to redefine the urban city skyline as the iconic gem of the CBD.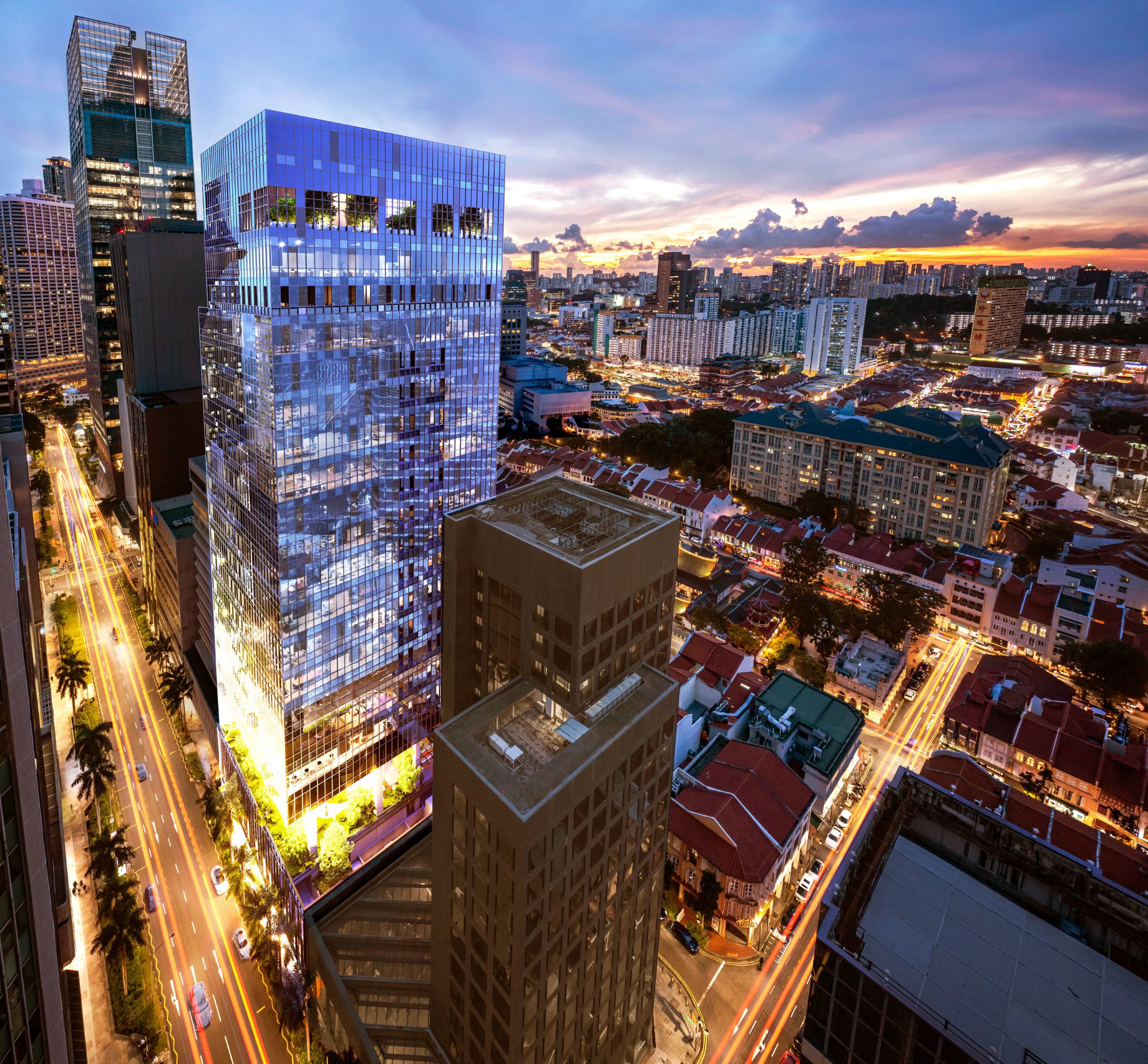 Singapore, the gateway to Asia and the world
Asia boasts a wealth of emerging and established markets, including some of the fastest-growing economies in the world. Accorded Asia's top financial hub, Singapore's prime location in the heart of Southeast Asia gives businesses access to major Asian markets and the lion's share of growth opportunities.

Singapore is also recognised as a technology hub where the world's finest technological companies have established their regional headquarters. The stable regulatory environment, attractive tax rates, and transparent market create fertile ground for foreign and local investments.
A vibrant city with an excellent education system, Singapore's highly skilled workforce is yet another reason that the city is a prime choice for multinational corporations and businesses that consider Asia as a key driver for growth.
Unmatched Brilliance
Adorned with a multi-faceted glass facade, the building embodies the lively brilliance of the Blue Diamond.
Three different colours of double-glazed glass are used to create a responsive and biomimetic exterior that exudes elegance while improving thermal efficiency.
An insignia of commitment and a symbol of strength, the blue diamond represents the endlessly enduring form of nature, peace and eternity and is made to last from one generation to the next.

"A distinctive and unique office building inspired by the "Blue Diamond" design concept, with the use of varying tones of blue glass and reflectivity to create a spectrum of texture and pattern."
Ti Lian Seng
Director, DP Architects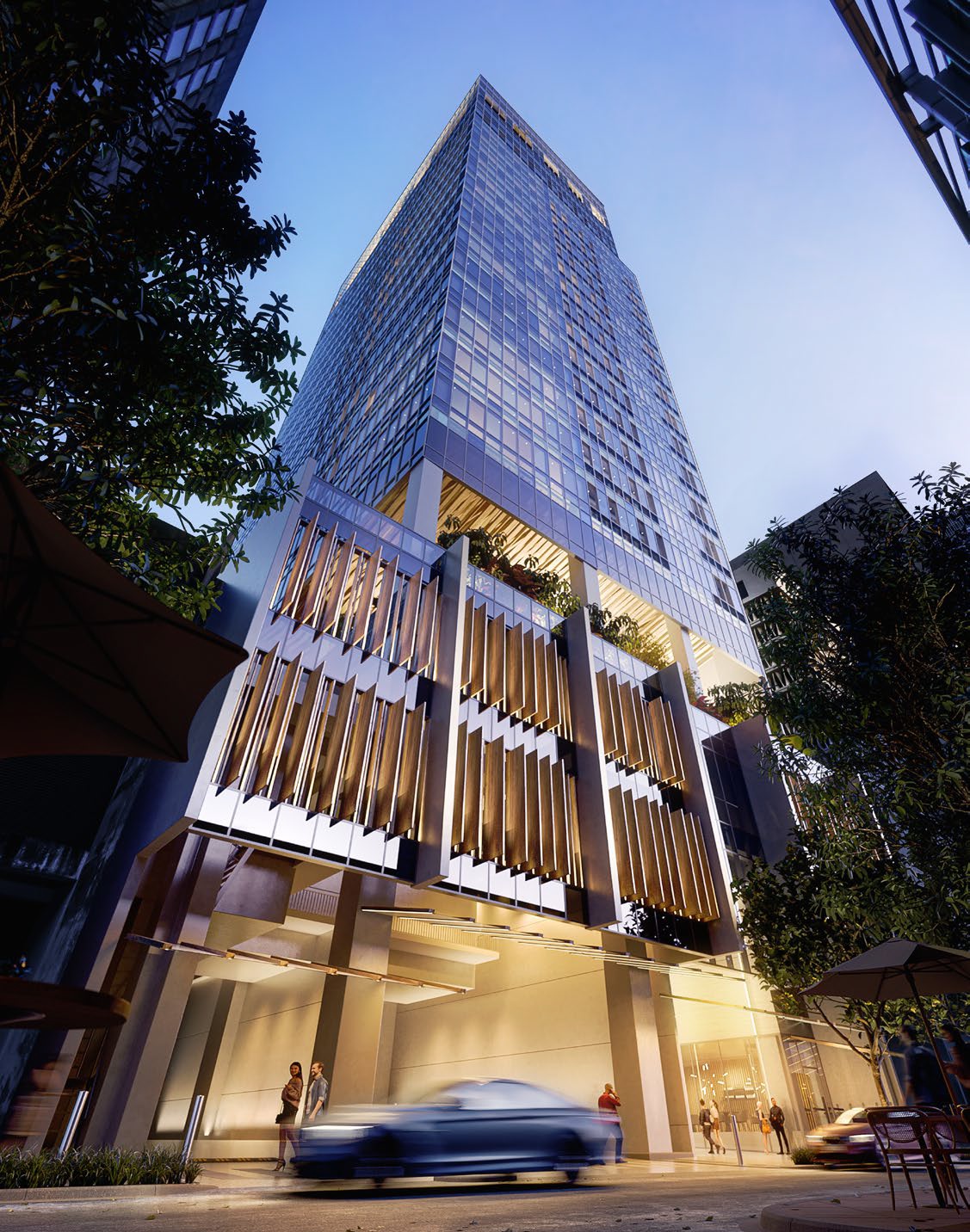 Unparalleled Connectivity
Strategically located with easy access via Cecil Street and Stanley Street, Solitaire on Cecil is in close proximity to 5 MRT Stations, the nearest being Telok Ayer MRT and Raffles Place MRT stations within mere minutes of walking distance, as well as major expressways such as ECP, MCE and CTE.
Solitaire on Cecil is also located within an area which is home to leading businesses and financial institutions where occupants have access to Telok Ayer Street, Amoy Street and Chinatown precincts, a food haven that is home to over 160 acclaimed F&B concepts and Michelin star restaurants.

Bridging Business & Leisure
As part of Urban Redevelopment Authority's rejuvenation efforts in creating a pedestrian friendly neighbourhood, the through-block link is a fully sheltered walkway featuring a double volume ceiling height of over 9 metres. It provides exceptional connectivity between Cecil Street and Stanley Street, with direct access to a plethora of F&B and entertainment options.

A Grand Welcome
Greeted by a double volume ceiling of over 9 metres, the main lobby exudes a sense of space and sophistication. Bringing in a touch of luxury hospitality, a dedicated concierge takes care of any request efficiently and meticulously. The effortless transition from public spaces to the private offices above is fitted with advanced technology, including a self-registration kiosk for visitors and touchless lift access. Indoor air quality monitors and UV air purifiers allow occupiers to enjoy fresh, clean air and enhances overall wellness.

Workplace of Tomorrow
Beyond the generous 13,000 sq ft workspace, every level of Solitaire on Cecil is designed to put people and technology first. The 4.9 metre floor-to-floor height and large windows invite ample natural light and ventilation into the workspace whilst the UV air purifiers provide high air quality, ensuring every employee's well-being is taken care of.
Tailored & Versatile Spaces
Solitaire on Cecil is one of the rare few developments which offers high quality freehold strata office spaces in the CBD. With the government's restriction of strata sub-division within the Central Region, future supply of prime strata offices will be limited and increasingly hard to come by.
Designed for maximum flexibility and dynamic spatial planning, the regular floor plate of 13,000 sqft allows for an efficient subdivision for more collaborative idea generation and office interactions. Each unit comes equipped with provisions for your office's own sanitary and pantry fit out.
Enjoy spectacular unblocked views of Singapore's heritage precincts – Telok Ayer and Chinatown.
Balance Your Mind & Heal Your Soul
Sustainable and lush biophilic gardens swathe the 27,000 sqft of wellness and collaborative spaces. The Relaxation Deck and Social Deck feature comfortable seating and the Outdoor Movie Screen at the Entertainment Square presents opportunities for leisure activities. Work Pods and the Multi-Function Room are surrounded by verdant greenery and fitted with the necessary power provisions. Complete with a 7-metre high Grand Water Wall, the Leafy Pods, Garden Hideout and Chill Out Deck are perfect for hosting informal discussions or engaging in quiet contemplation while the Yoga Lawn is made for open-air restoration.
Energize Your Body
The Warm Up Court provides a spacious area to stretch out and prepare the body before the action begins. Catering to individual preferences and fitness levels, the Indoor Fitness Gym and Outdoor Parkour Gym are furnished with state-of-the-art equipment for energetic workouts and training sessions.
Sky-High Perspective
Redefine work interactions at the Solitaire Sky Lounge and enjoy unobstructed views of Singapore's iconic cityscape. The pavillion is equipped with electrical outlets and a pantry to serve as an alternative workspace or host private social events such as investor meetings, company activities and after-work drinks.
Solitaire on Cecil Location Map
Solitaire on Cecil Street View
Solitaire on Cecil Resale/Rental Prices