About The Oliv
The Oliv at Balmoral is a luxurious residential development at 11C Balmoral Road. Developed by TG (Balmoral) Pte Ltd, a subsidiary of TG Development, this freehold property comprises 23 exclusive units spread across a single 10-storey tower.
This development is in a prime location, surrounded by lush greenery and some of Singapore's most prestigious schools and amenities. It is just a short walk from the famous Orchard Road shopping belt, providing residents easy access to high-end shopping, dining, and entertainment options.
One of the key features of The Oliv at Balmoral is its unique architectural design, which blends seamlessly with its natural surroundings. The building's façade is covered with a vertical garden, which not only provides a beautiful and calming environment but also helps to reduce the overall temperature of the building.
The Oliv at Balmoral only offers units of large floor plates, with 4-bedroom apartments, as well as penthouses with private pools. Each unit has been meticulously designed to provide residents with the utmost comfort and luxury. The apartments feature double-volume ceilings, spacious balconies, and floor-to-ceiling windows that offer breathtaking views of the surrounding greenery.
Residents of The Oliv at Balmoral can enjoy many amenities, including a lap pool, a children's pool, a gymnasium, a BBQ area, and a beautifully landscaped garden. The development also features 24-hour security, ensuring residents enjoy peace of mind and a sense of security.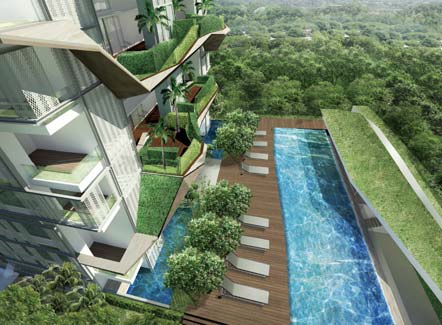 The Oliv at Balmoral is a unique and luxurious residential development that offers residents a serene and peaceful living environment, surrounded by natural beauty and yet within proximity to all the modern amenities Singapore offers.
The Oliv Location Map
The Oliv Street View
The Oliv Resale/Rental Prices