About TripleOne Somerset
The Most Desired Business Address Of Orchard/Somerset
Orchard/Somerset is the world-renowned shopping, entertainment, business and residential precinct in Singapore, comparable to Champs-Elysees in Paris or Oxford Street in London. Now TripleOne Somerset, located at Somerset Road, is poised to reshape the terrain by being the single most desirable strata commercial development in this prestigious location.
A Rare Opportunity For A Strata development
The 17 storey development comprises 15 storeys of premium strata office units, and 2 storeys of premium strata medical suites and office units, complemented by 2 storeys of retail providing a wide variety of food & beverage choices and other offerings relating to health, lifestyle, beauty and wellness. It is not just an impressive business address, but also a gateway, a meeting point and a destination unto itself.
With an increase in demand for strata office and medical spaces in Singapore, combined with an extremely limited supply in the Orchard/Somerset precinct, astute investors will recognise this as a golden opportunity with an immense potential for capital appreciation.
Perfectly Located With Somerset MRT Station At Your Doorstep
TripleOne Somerset is strategically located within the prestigious and bustling Orchard/ Somerset precinct. Surrounded by renowned shopping centres, international flagship stores, hotels, dining and entertainment choices and even luxury residences, its highly desirable location is further enhanced by the direct access to Somerset MRT station, via sheltered walkway links.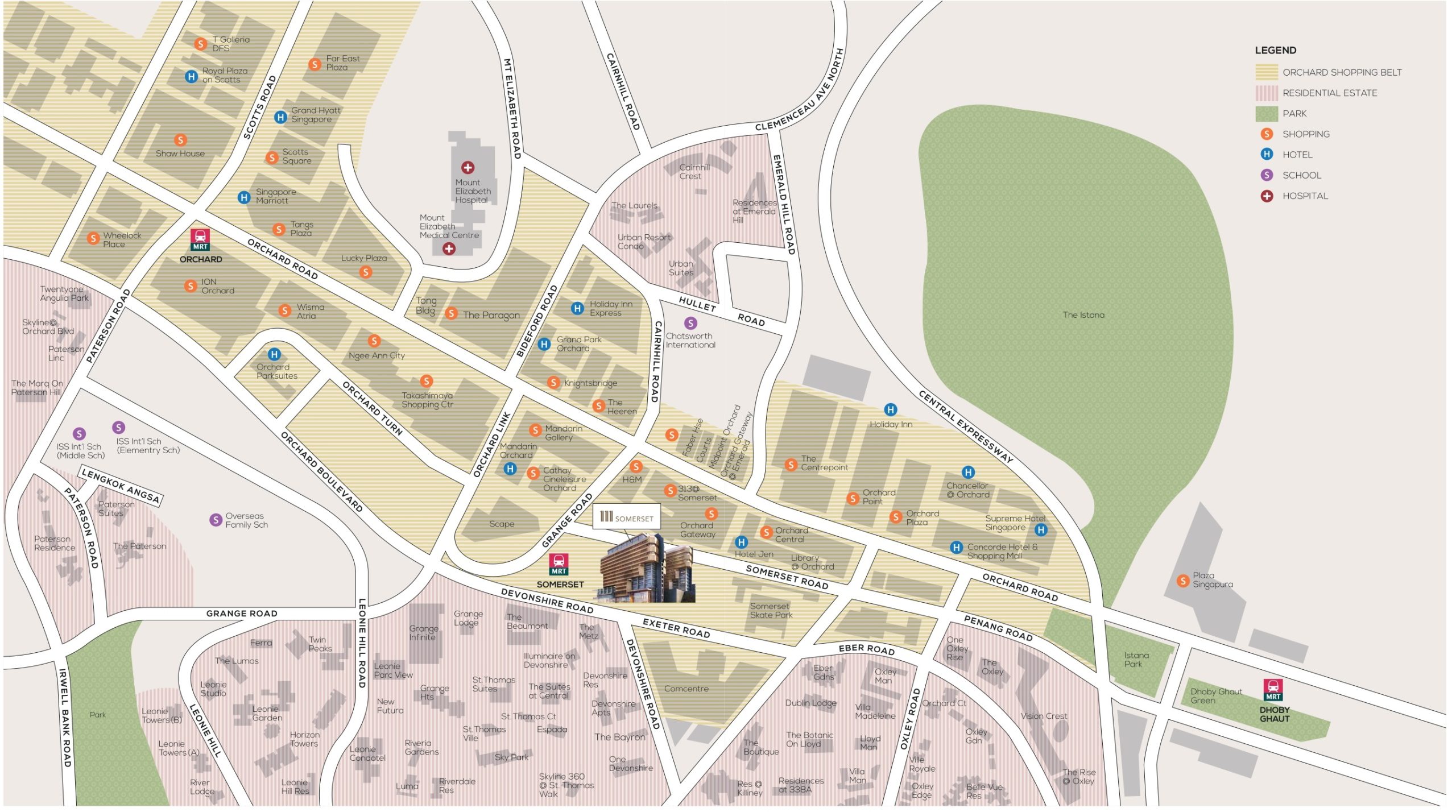 A Minute's Stroll From Orchard Road
Orchard Road is a popular shopping and entertainment hotspot that draws high-end tourists and business travellers from all over the world, with annual tourist arrival of about 16 million. From TripleOne Somerset, you will enjoy vibrant and colorful views of Orchard Road with its great shopping scenes and myriad of festive celebrations and activities, surrounded by exclusive residences amid lush greenery.
An Entry With A Grand Finesse
TripleOne Somerset also enjoys great visibility and prominence, with dual frontages facing Somerset and Devonshire Roads. Upon the completion of its asset enhancement programme, TripleOne Somerset will be transformed into a new landmark with a brand new facelift. The contemporary design, soaring ceiling heights together with its impressive marble-clad entrances and revamped lift lobbies will further enhance one's experience and leave a positive and lasting impression.
A Premium Space With Promising Returns
Here is a rare chance to own a strata office unit or medical suite in a prime location, whether for investment or owner occupier use. An opportunity not to be missed!
7 KEY INVESTMENT HIGHLIGHTS
1. Prestigious location
Coveted address located within the heart of Orchard Road, Singapore's prime retail, business and medical hub with ease of convenience and accessibility to other parts of Singapore via direct access to MRT and highway connections.
2. New retail a medical podium
TripleOne Somerset will be repositioned as a healthy lifestyle and wellness destination, offering a wide selection of food choices, beauty, wellness and health related trades.
3. New landmark
TripleOne Somerset will become a new landmark featuring an attractive new facade, marble clad entrances and lift lobbies at all levels. For added convenience, there will be a sheltered car drop-off point each on Somerset Road and Devonshire Road and direct escalator/lift access from Basement 2 carpark through to Level 4.
4. Seamless connectivity to public transportation
Sheltered access to Somerset MRT Station and nearest bus stop from TripleOne Somerset.
5. Flexible layout choices
Efficient and regular unit layout in a selection of sizes, ranging from 371 sq ft to 2,045 sq ft, with easy flexibility in configuring to larger spaces.
6. Limited supply of strata office units and medical suites in Orchard Road
With no competing similar units or supply in the pipeline. TripleOne Somerset's new strata office and medical suite units present a rare investment opportunity for investors.
7. Excellent car parking facilities
Spacious and ample car parking are available with a total of 390 lots.
Highly-Desired Spaces For Medical Suites
Orchard Road is an extremely popular destination for medical tourists from the region and beyond. However, supply is very limited in this prestigious location and this fact alone will enhance the value of the medical suites at TripleOne Somerset. Only 31 of such suites are available, and they come in flexible layout spaces ranging from 635 sq ft to approxi-mately 18,000 sq ft (an entire floor). A stretcher lift from Basement 1 to Level 4 is an added convenient feature for medical tenants.
An Exciting Retail Experience To Enhance Value
To add to footfall in the development as well as boost per-square-foot values, offices in TripleOne Somerset will benefit from an attractive and vibrant retail podium comprising a wide diversity of established and popular shops and restaurants. Office workers in the building will also find it convenient to enjoy lunch or unwind here.
To satisfy the needs of the discerning shoppers with a taste for gourmet fare, the 'marketplace' will comprise an impressive array of specialty shops ranging from beverages, wines and confectionery to spices. 'special cut' meats and organically grown fruit and vegetables.
Work, Dine And Relax All At One Place
Enjoy excellent parking facilities offering 390 lots, an array of dining, beauty, wellness and health-related options, as well as the convenience of a gourmet market. Work, shop, dine and discover wellness, all in one place. At TripleOne Somerset, everything adds up to the perfect investment opportunity.
TripleOne Somerset Location Map
TripleOne Somerset Street View
TripleOne Somerset Resale/Rental Prices