About Blossoms By The Park
Home & Living Modernity is not just a trend, but it is sustainability.
More Than Just A Home
Blossoms By The Park features a wide range of unit types to suit every need, from cozy one + study to spacious four-bedroom apartments. Each unit is designed with functionality and elegance in mind, featuring top-of-the-line appliances, premium fixtures, and ample natural light.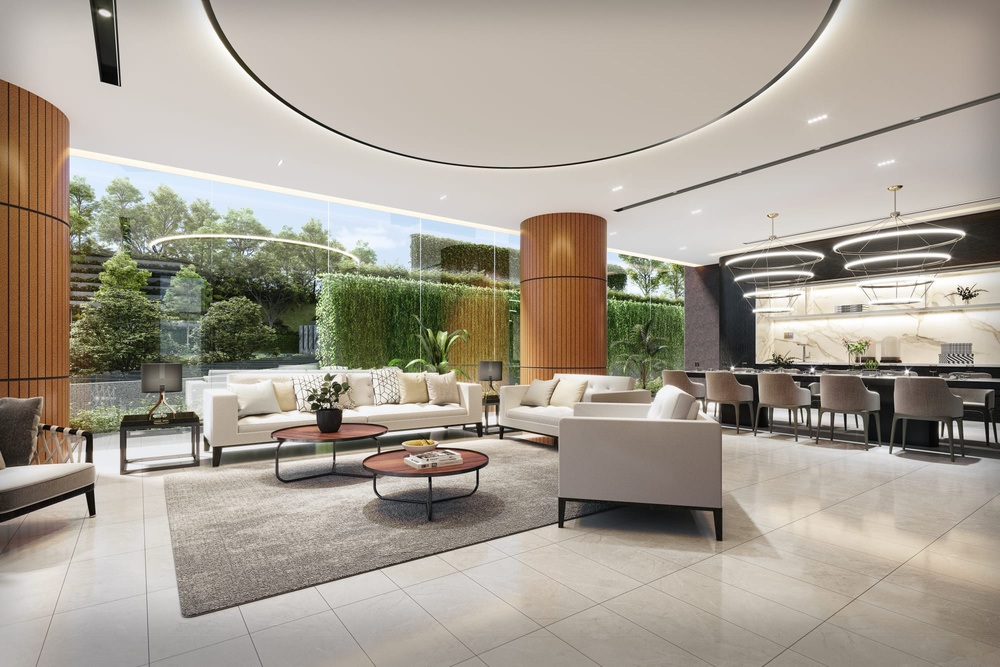 Convenience
Located in the prestigious One-North area and a few minutes walk to The Star Vista mall, residents will enjoy easy access to the city's best dining, shopping, and entertainment options.
Buona Vista MRT station is just a stone's throw away, providing residents with increased connectivity to any part of the city for work or leisure. Finally, with commercial lots integrated into Blossoms By The Park, the possibilities are infinite.
Style
The development's modern and sleek architecture is sure to impress, while the spacious units and high-end finishes provide the ultimate comfort and style. Unparalleled living experience with its range of top-notch facilities designed to enhance the quality of life of residents and create a sense of community. At the same time, providing a perfect balance of relaxation and entertainment, making Blossoms By The Park the ultimate choice for luxury living in Singapore.
The perfect choice for those who appreciate sleek lines, neutral colours, and minimalist aesthetics, creating a harmonious and uncluttered space that is both functional and visually pleasing.
Versatility for all
Blossoms By The Park offers a range of versatile living options to fit your lifestyle needs. Whether you are a single professional looking for an efficient 1 + Study unit, a small family seeking a cosy 2 Bedroom, or a growing family in need of more space with a 3 Bedroom or 4 Bedroom option, this condominium has you covered. And for those who crave even more flexibility, consider a 2 + Study, 3 Bedroom Dual Key unit. Each layout is designed with comfort and convenience in mind, providing you with the perfect place to call home. All units are also equipped with smart appliances, including a WIFI built-in oven, a WIFI slim hood, a hob, and an app-controlled air conditioner that can be timed and shut off with ease. To add extra security, each unit is also equipped with a mobile-enabled digital lockset from igloohome.
Blossoms By The Park is thoughtfully divided into two distinct areas: a tower block and outdoor facilities side. On level 2, residents will have access to a variety of facilities including a swimming pool, BBQ area, kids pool, wellness pool, and pavilions, all connected by a sheltered linkway. The outdoor facilities deck is elevated, ensuring complete privacy for residents. And conveniently located on level 1 are the function room and gym. For added security, a security counter is conveniently located on the inner side of the drop-off area and car park gantry, creating smooth traffic for residents, taxis and delivery services.
Live
Living in developments like Blossoms By The Park provides residents with the chance to experience luxury and comfort while being near top dining, shopping, and entertainment destinations in the city. Additionally, being near one's workplace can minimize commuting time, allowing for more quality time with loved ones.
Work
One-North is home to a wide range of businesses in the area, including tech startups, research and development centers, and multinational corporations. The area is also home to Fusionopolis, a state-of-the-art research and development hub that is home to some of the world's leading companies in the fields of biotechnology, infocomm technology, and media.
Play
The area offers a diverse selection of recreational and entertainment choices. Buona Vista Park, located nearby, is frequented by joggers and cyclists. Additionally, the area's malls and restaurants offer residents a variety of options for dining and shopping.
Learn
Reach your full potential at the world-renowned centre for leadership development and talent training. With top corporate universities, premier business schools, and education centres for children and youth all in close proximity, you will have access to numerous resources to help you achieve your goals.
Impeccable Convenience
Buona Vista MRT station, situated only 225m away from Blossoms By The Park, is an ideal location for those who value convenience in their daily lives. The station is a major transportation hub that provides easy access to various parts of Singapore via the East-West Line and the Circle Line.
This means that you can easily travel to popular destinations such as Orchard Road, Raffles Place, and Marina Bay, without having to worry about the hassle of traffic or long commutes.
Driving from Buona Vista to other parts of Singapore can be quite convenient, as the area is well-connected by major expressways. The Ayer Rajah Expressway (AYE) and Pan Island Expressway (PIE) is easily accessible from Buona Vista, providing a direct link to the city center and other parts of the island.
In addition, the station is surrounded by amenities such as shopping centers, restaurants, and parks, making it easy for you to access all the things you need on a daily basis. The nearby Buona Vista park is a great spot for joggers and cyclists, while the malls and restaurants in the area provide residents with plenty of options for dining and shopping.
Education (Early Childhood)
Education
Education (Tertiary And Beyond)
Nature at your doorstep, tranquillity in your heart
Blossoms By The Park also has direct access to One-North Park which has lush greenery and landscaping and includes a variety of trees and plants that are strategically placed throughout the area to create a pleasant and serene environment for residents, employees and visitors. The greenery in One-North Park is designed to not only enhance the aesthetic appeal of the area but also to improve air quality and provide a habitat for local wildlife.
The Future
The Master Plan for One-North envisions the development of a vibrant and sustainable business park that will be home to a diverse mix of research and development, technology, and media companies.
With a strong emphasis on sustainability, with features such as green buildings, energy-efficient infrastructure, and the promotion of active mobility.
While creating a diverse and inclusive community, with an emphasis on providing housing and community facilities for the people who work in One-North.
And brought together by providing a high level of connectivity through public transport and infrastructure, such as the MRT and cycling paths.
The Master Plan for One-North envisions the development of a vibrant and sustainable business park that will be home to a diverse mix of research and development, technology, and media companies.
URA's plans for One-North include a workforce expansion to over 120,000 employees working in the precinct. As this plan comes to fruition, there is a concern that the current housing supply will not be able to meet the high demand for housing from the workforce.
A Catalyst For Business Growth
One-North is a thriving hub for innovation and creativity, with a strong presence of notable companies in various industries. Companies like Lucasfilm and Walt Disney Company call this area home. Other major players in the media, technology, and FMCG sectors, such as Mediacorp, Grab, and P&G, also have a presence here.
Launchpad @ One-North is a dynamic coworking space designed to support startups and entrepreneurs. This innovative space provides its members with access to a thriving community of like-minded individuals and businesses, as well as a range of resources and amenities to help bring their ideas to life.
Blossoms By The Park Location Map
Blossoms By The Park Street View