About The Continuum
Where everything begins with endless possibilities.
Designed for all nuances, The continuum grows gracefully with you. Your continuous pursuit of elevated living has led you here. Let The Continuum take it higher with an intricate interplay of lifestyle choices that stretch from the ground to picturesque rooftop decks. All around, reverberations of extraordinary moments inspire a million more. Welcome to a freehold home that unceasingly invigorates as you savour them all. A fluid expression of rich diversity and modern luxury awaits.
"A dialogue of comfort and splendour between two parallel plots, the Continuum Bridge brings across seamless living through all of life's ultimate escapades." -Kingsley Ng, Director P&T Architects
Dreams you wish would last forever, do. The Continuum makes this possible by perfecting the finest details in a home where space meets timelessness.
Build your everlasting legacy on the largest freehold plot in the East. One exclusive address, two majestic sites, and a myriad of lifestyles. Eternally yours. Nestled in a cultural oasis on the city's edge, a special place in the heart of life.
Wander a backyard that spans nature, culture and the city
Minutes away from the city and surrounded by the excitements of Katong, East Coast and Paya Lebar. The Continuum captures the imagination of those who want it all. From this prime location, flow seamlessly through your passions and aspirations, with time to appreciate the moments in between.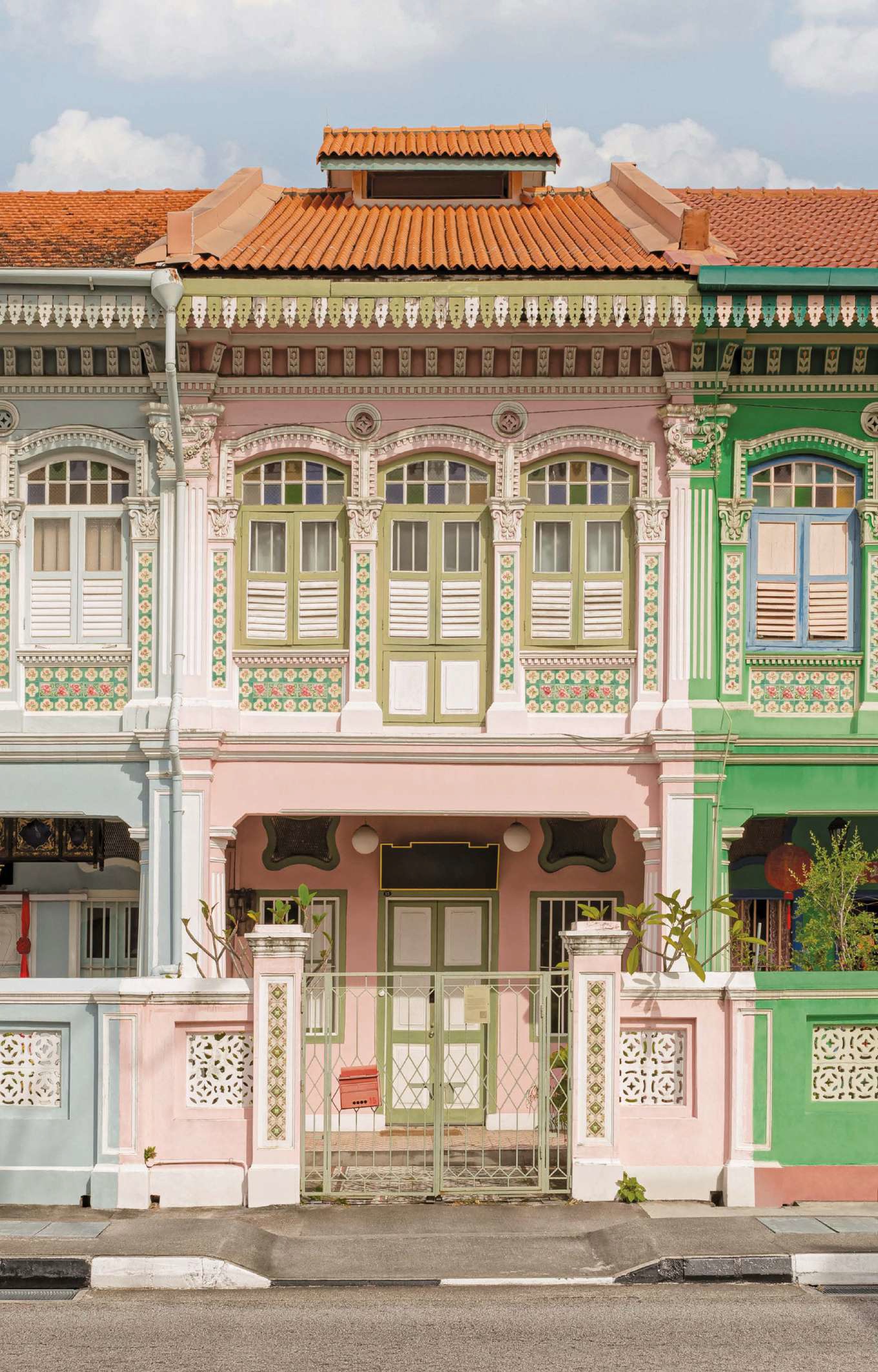 East Coast, Favourite Pastimes In An Ocean Of Tranquility
Embracing the sea from Changi to Marina Bay, East Coast is Singapore's largest park that offers a unique recreational experience.
Katong, Old-World Charm Glittering With Trendy Hangouts
Alive with Peranakan culture, Katong is a wondrous mosaic of chic boutiques, quaint cafes and buzzy pubs set in heritage shophouses.
Paya Lebar/Kallang, Well-Connected Multifaceted Hub
This lifestyle central surrounded by business and residential hubs is quickly becoming a social enclave with a multitude of dining, retail, and enrichment offerings.
City, World-Class Business and Pleasures
The Central Business District and Orchard Belt are just minutes from home, allowing you time to relax and rejuvenate for work and play.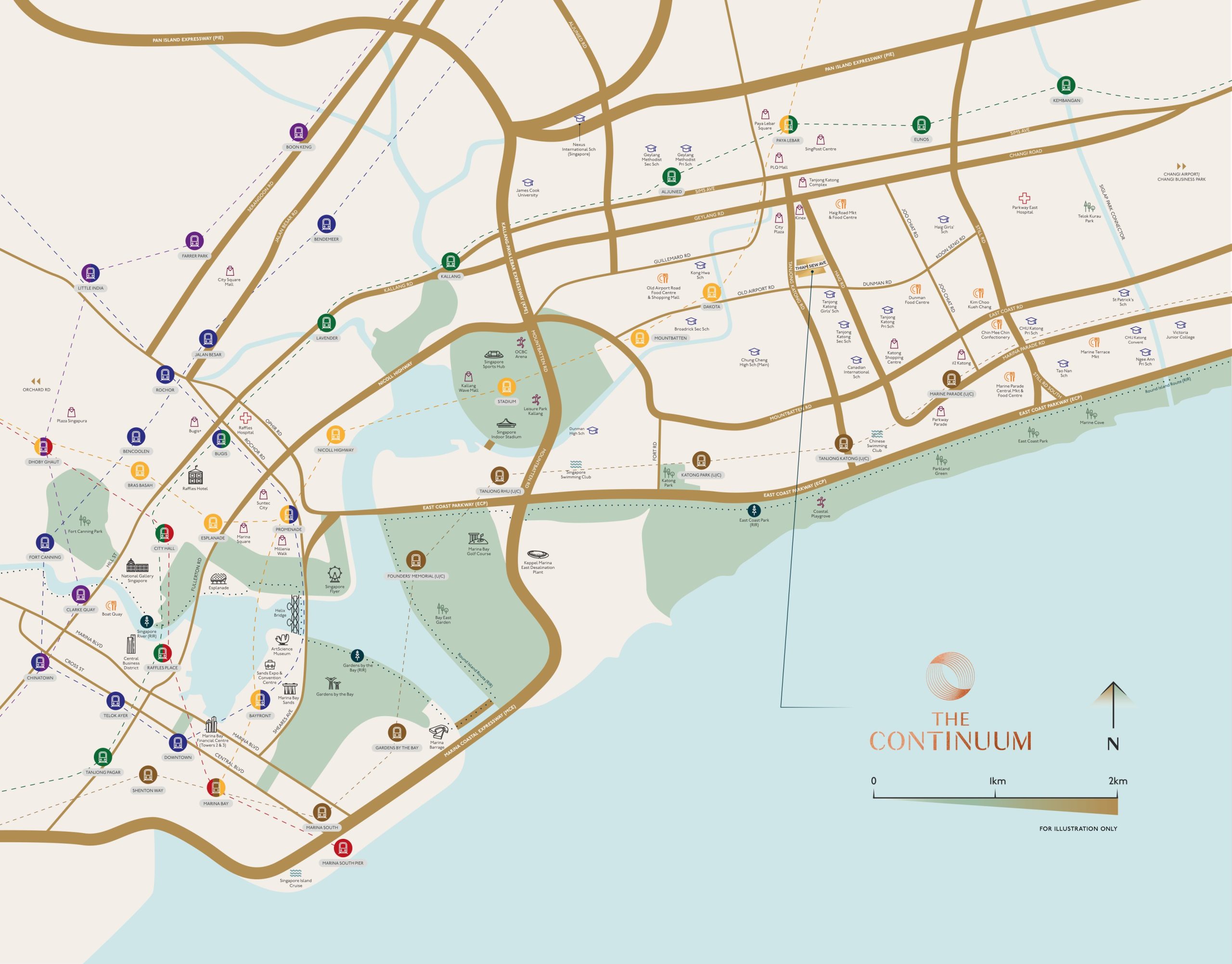 At the centre of your world, The Continuum revolves around you
There is always something to discover in an evolving neighbourhood steeped in history within the coveted District 15. To unwind, look east for a relaxing coastal park-scape and countless enrichments. Just minutes away, the city engages with world-class retail, dining and arts
Meticulously symbolic, resolutely unmistakable
Two stunning silhouettes in an artful weave of luxury and comfort stretch parallel within the intricate enclave. The iconic Continuum Bridge, a unique modernist sculptural centrepiece, is where tastes and textures converge, connecting you with the other dimensions of this thoughtfully designed development. Meanwhile, high above the populace, two skyways that dazzle the night Link breathtakingly curated Sky Gardens. Framed by sublime ocean and city views are class venues tailored for a range of Leisure pursuits. An escape within a dream home where personal bests are achieved and social circles flourish.
Grandeur Befitting A Truly Exclusive Address
Thiam Siew Avenue transforms to a distinctive, lush boulevard that reveals the dual entrances to the most exciting freehold address in the East. Each lobby is harmoniously designed to complement the other, exquisitely articulated with a gradience of colour and elements to create an inimitable sense of arrival that resonates through The Continuum.
An Undivided Attention To Detail
Complete amenities are meticulously curated and mapped with all generations and aspirations in mind. The Continuum promises continuity of well-being for the mind and body, heart and soul.
From the refurbished heritage bungalow north clubhouse to the ultra-contemporary south clubhouse. Find your social sweet spot anywhere along the spectrum of choices at The Continuum.
Timeless memories await at the refurished Thiam Siew House. The clubouse features a decorative wall that preserves the property's Marseille roof tiles, a mid-19th century innovation, and original wooden caesment windows restored from another house. The gate posts remain as they were, heralding memorable moments as they have done for decades.
Entertain or be entertained at South Side Social. Inspired by a glowing lantern, it brings a radiant dimension to the plethora of indoor experiences at The Continuum. In ambient contrast to Thiam Siew House, The Continuum's second clubhouse picks up the tempo with two floors of merriment in three diverse spaces designed to indulge playful imaginations.
Elevated Living From The Ground Up
Lavishly detailed from the lushly landscaped grounds up to breathtaking heights. The Continuum is poised to turn moments into lasting memories.
Rejuvenation
Radiance
Celebration
Enjoy The Greater Indoors
The Continuum features a selection of indoor venues that offer an array of bespoke experiences to enhance your favourite pastimes and pursuits.
North Plot
South Plot
Expressions of timelessness in next-generation spaces
Bespoke touches reveal elegant, enduring aesthetics in two distinct collections – Signature and Prestige. While flowing layouts are a hallmark of apartments at The Continuum, the two collections are exceptionally finished and dimensioned differently to suit various tastes and family sizes.
Signature Collection
The Signature Collection is poised to enchant your next chapter. Light, neutral tones accented with stone patterns and woodgrain finishes elicit natural warmth throughout the unit. With two to four bedrooms, the collection presents exciting singles pads and room for young families to blossom.
Each unit is conscientiously planned and efficiently designed with thoughtful integrations to amplify space. The master bedroom features a floor-to-ceiling wardrobe with a full-height mirror and side panel dresser built in for maximum storage.
Everyone dreams of comfort, as all rooms can accommodate at least a queen bed while the master bedroom fits a king. Meanwhile, storage spaces are well-designed with ledges on the swing doors to help keep your home clutter-free.
For more possibilities, choose a Signature Premier unit with a more extensive foyer or a dry kitchen.
Prestige Collection
Your grand arrival experience continues with the Prestige Collection's exclusive private lift lobby. For you, this is where privacy and comfort begin. A taste before you are whisked to the pinnacle of luxurious living at The Continuum.
Three, four and five-bedroom apartments await to soak in the exuberance of multigenerational families and surround you with quiet sophistication all at once. Take your time to appreciate the collection's spatial generosity, carefully complemented with features of the finest natural stone, marble and craftsmanship.
Spacious walk-in wardrobes in the four and five-bedroom homes feature pull-out and side dressers for all your everyday needs. The indulgence continues in the bathroom with a soul-soothing rain shower and full-length bath.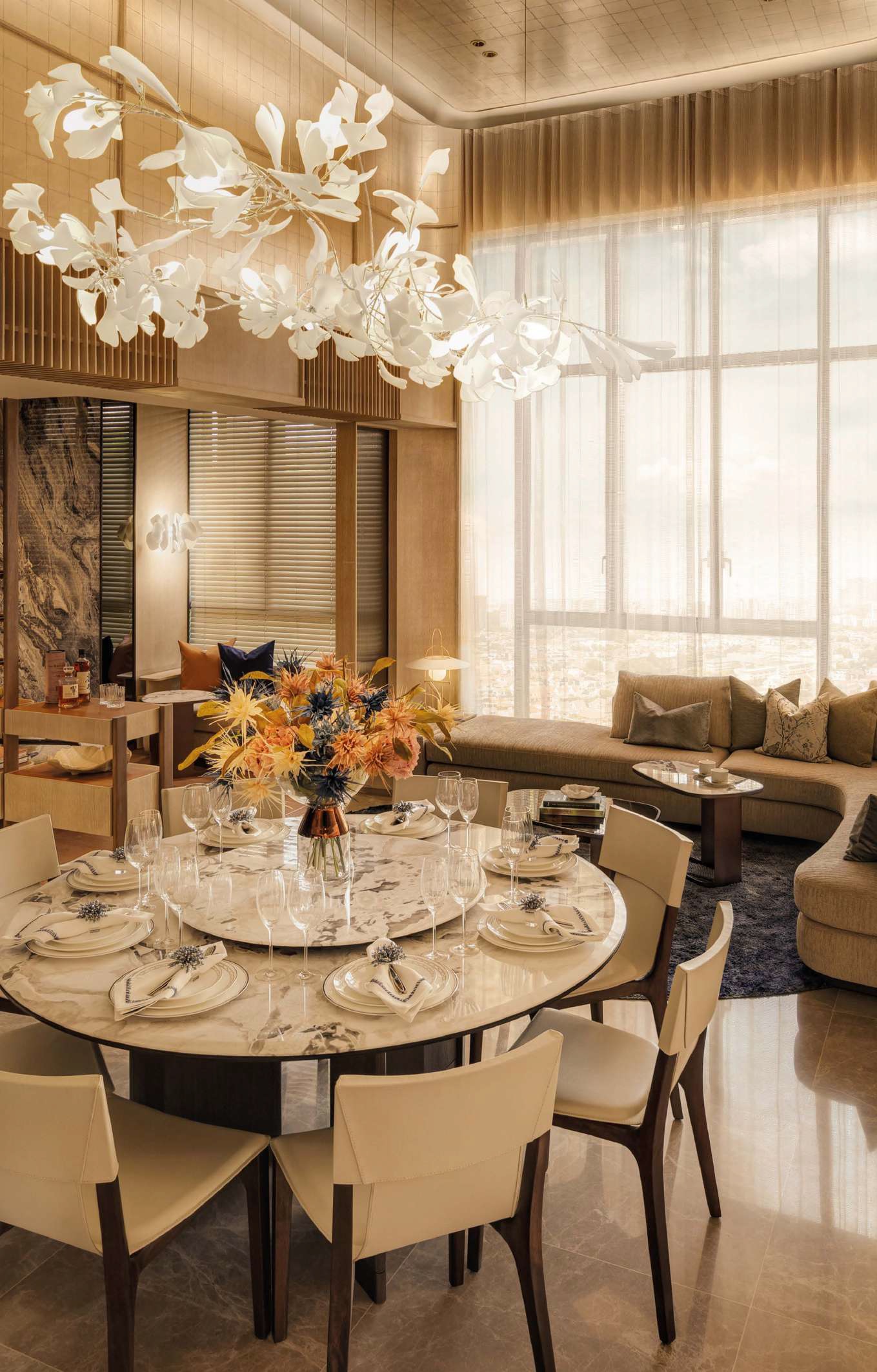 "Imagine a place where two souls meet, a space where functionality and conviviality blend seamlessly together to create the perfect environment for fine living. Provisions are carefully curated to reflect the unique personalities and tastes of the two individuals who call it home."
-Hilary Loh, Design Director
Made with fine details
ALL apartments are generously furnished with select appliances and fixtures from esteemed makers at the peak of their craft.
Fittings from V-Zug and Samsung elevate the kitchen along with your culinary and entertaining finesse and make clean-ups a breeze.
Laufen, Gessi and Tece pamper you in the bathroom, with selected units offering a full-length bath and a dual-basin vanity for five-star treatment.
Seamless living begins with smart simplicity
Welcome to urban Living redefined with uncompromising sophistication and substance. The integrated smart system puts guest access, facility bookings, security and more at your fingertips so you don't miss a thing.
Redefining forever homes with green standards
Sustainability flows through the property's DNA. Designed with solar panels and passive design features along with energy-efficient appliances and fixtures, The Continuum is a home that cares for the future it was built for.
The Continuum Location Map
The Continuum Street View