About Wallich Residence
Wallich Residence. Quite literally, the highest level one can aspire to.
Architecture is the embodiment of a city's ambition. It tells the story of its history, and of its transformation. In every city, stands one tower that defines it. And makes everything that has come before, merely an exercise in anticipation of its arrival.
Singapore The Global City
As the new heart of Asia, Singapore is renowned for a quality of life and an exceptional work environment. Diverse and cosmopolitan, yet with the security and political stability of a modern, thriving economy; Singapore is the perfect blend of Asian roots and a Western outlook, where culture and history are effortlessly integrated with innovation and progress. Now ranked as the No. 1 city in the world with the best investment potential* and voted as one of the world's most liveable cities**, Singapore's strategic location makes it a global hub for business and tourism with a world-class financial, healthcare, transportation, and logistics infrastructure backbone. Adding to the character of the city is its reputation as the culinary capital of Asia, with the renowned Michelin Guide producing Singapore's first list of Michelin-starred restaurants in 2016.
As the gateway to Asia, Singapore's reign as the leading business, lifestyle and cultural hub of Asia remains firmly unchallenged.
A Storied History
Wallich Residence stands at the heart of Tanjong Pagar, a historical and culturally-rich district. Today, it has evolved to become an integral part of Singapore's Central Business District (CBD). Tanjong Pagar has played an important role in Singapore's political history and is best known for being the electoral ward of Singapore's founding father Mr. Lee Kuan Yew.
The first area in Singapore to be gazetted under the Government's conservation plan, Tanjong Pagar is now home to a vibrant mix of cultural, retail and residential developments. Wallich Residence sits at the heart of a district that is on the cusp of exciting transformation.
Where Change Is The Only Constant
Tanjong Pagar plays a pivotal role in the transformation of one of the most exciting government land redevelopment projects in Singapore to date. The relocation of the nearby city terminals and ports has freed up nearly 1,000 hectares of land and provided immense opportunities to shape the future of the Greater Southern Waterfront, which will be the next waterfront city in Singapore.
By creating a seamless extension of the CBD along an uninterrupted 30km stretch of waterfront, this new promenade city will open up new live-work-play opportunities and foster community bonding, as well as becoming a catalyst for development and transformation in the area.
With its prime position in the district, Tanjong Pagar Centre is poised to become the gateway to this new waterfront city, and also as a conduit for Singapore's continued growth and prosperity.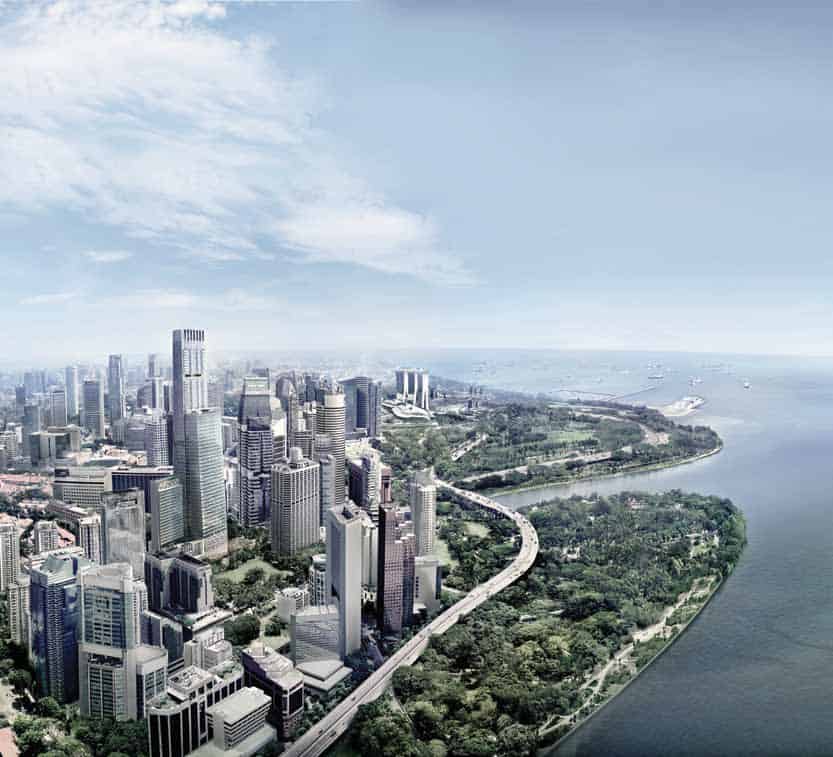 The Lifestyle Hub Of The Central Business District
The perfect extension for Wallich Residence, Tanjong Pagar offers opportunities for work, live and play.
The district houses major organisations and companies such as the Monetary Authority of Singapore, Securities Investors Association (Singapore), GIC and Maxwell Chambers, making the area attractive to other multi-national companies of similar status, as well as smaller companies that want to connect within this elite hub.
The residential catchment area of the Tanjong Pagar district is expansive compared to the other parts of the CBD. With approximately 8,600 residential homes and 32,500 residents, the district benefits from a large stable population that contributes to the vibrancy of the area, creating a lively atmosphere after office hours and on weekends. The Tanjong Pagar precinct also offers an exciting entertainment scene. Adjacent areas such as Duxton Hill, Ann Siang Hill and Peck Seah Street have a wide variety of popular bars, restaurants and cafes, while attractions, such as the Red Dot Design Museum, offer visitors a glimpse of the latest trends in international design.
The district also offers residents convenient access and connectivity to the rest of the city, via major highways such as the Marina Coastal Expressway and Ayer Rajah Expressway. Changi International Airport is a 16-minute drive, Marina Bay and Orchard Road a mere 4- and 8-minute drive respectively. Residents of Wallich Residence have direct access to the MRT network, with Tanjong Pagar MRT station situated directly beneath Tanjong Pagar Centre.
With such a wide range of possibilities, the hub of the CBD is set to shift, making Tanjong Pagar the new heart of the CBD.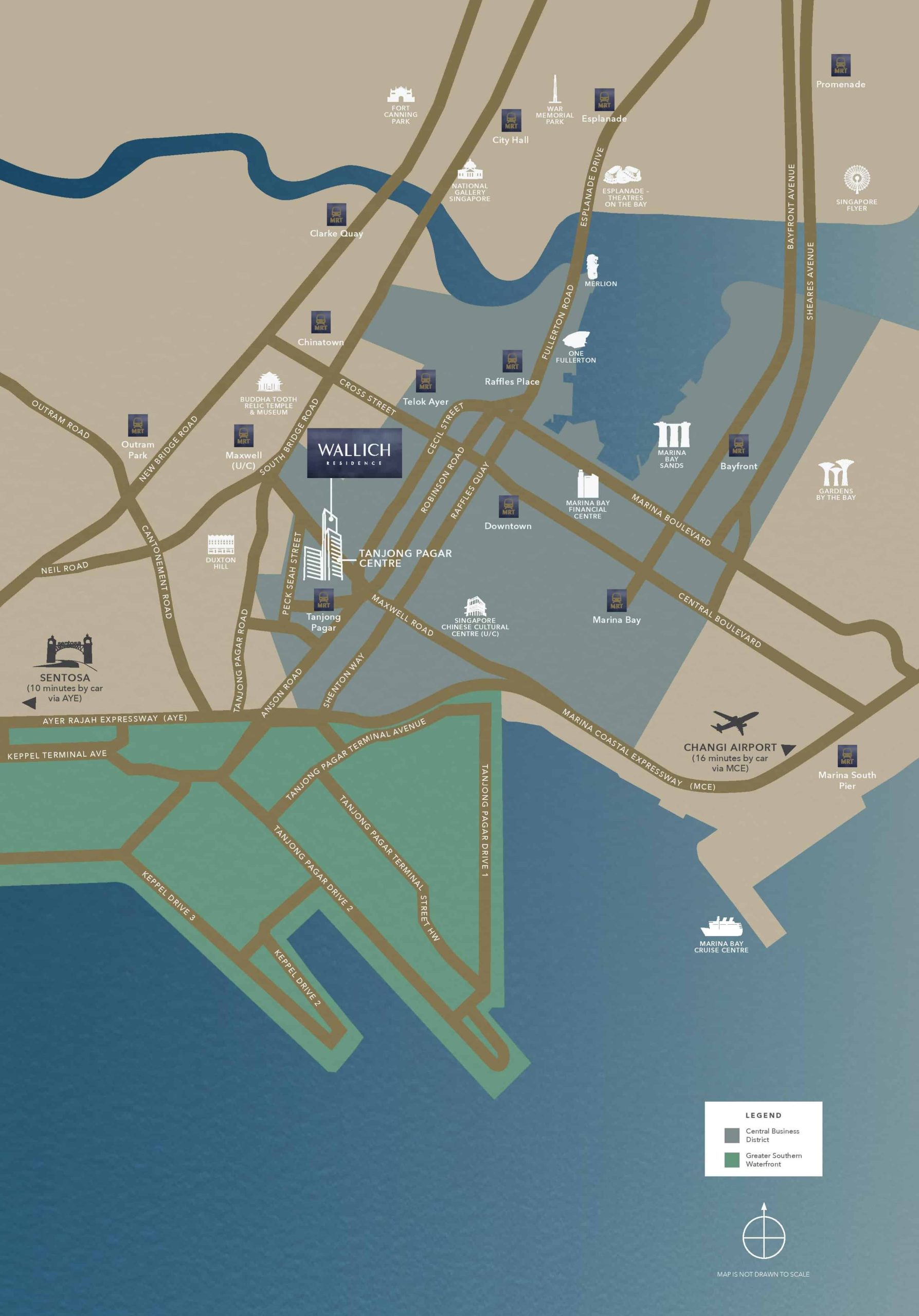 The Legacy Of Wallich
Located on Wallich Street, Wallich Residence bears the name of distinguished Danish surgeon and botanist Dr. Nathaniel Wallich, whose own legacy has contributed substantially to Singapore's reputation as a Garden City.
His passion for the region's rich flora and fauna mirrored that of Sir Stamford Raffles, a close friend and founder of modern Singapore. This culminated in the creation of the Botanic and Experimental Garden in 1822, the forerunner to the Singapore Botanic Gardens which received the prestigious UNESCO World Heritage Site accolade.
Dr. Wallich's passion for botany and nature is carried through into the design of Wallich Residence. The botany theme is extended to social areas and landscape features, with plants originating from Dr. Wallich's Botanical and Experimental Garden also found within the development. Staff uniforms even carry design motifs and accents with the same theme. Forever intertwined with this historical legacy, Wallich Residence epitomises the importance of nature and the environment in creating one of the world's most recognised green cities today.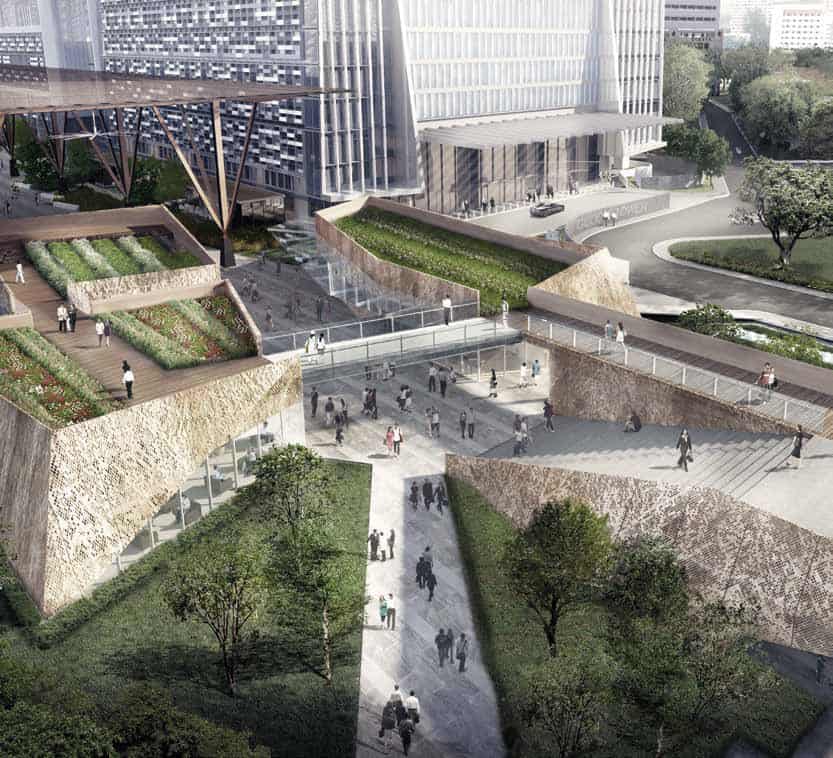 At The Forefront of Sustainability
Designed with nature and sustainability in mind, Wallich Residence has pride of place in a green building of the future. Tanjong Pagar Centre has been awarded the BCA Green Mark (Platinum) and achieved pre-certification for the prestigious Leadership in Energy and Environmental Design (LEED) CS Platinum, while Wallich Residence has been awarded the BCA Green Mark (GoldPlus).
The existing greenery of the historic Tanjong Pagar Park has also been incorporated into the development, creating a welcome sanctuary for those who work and live in the area.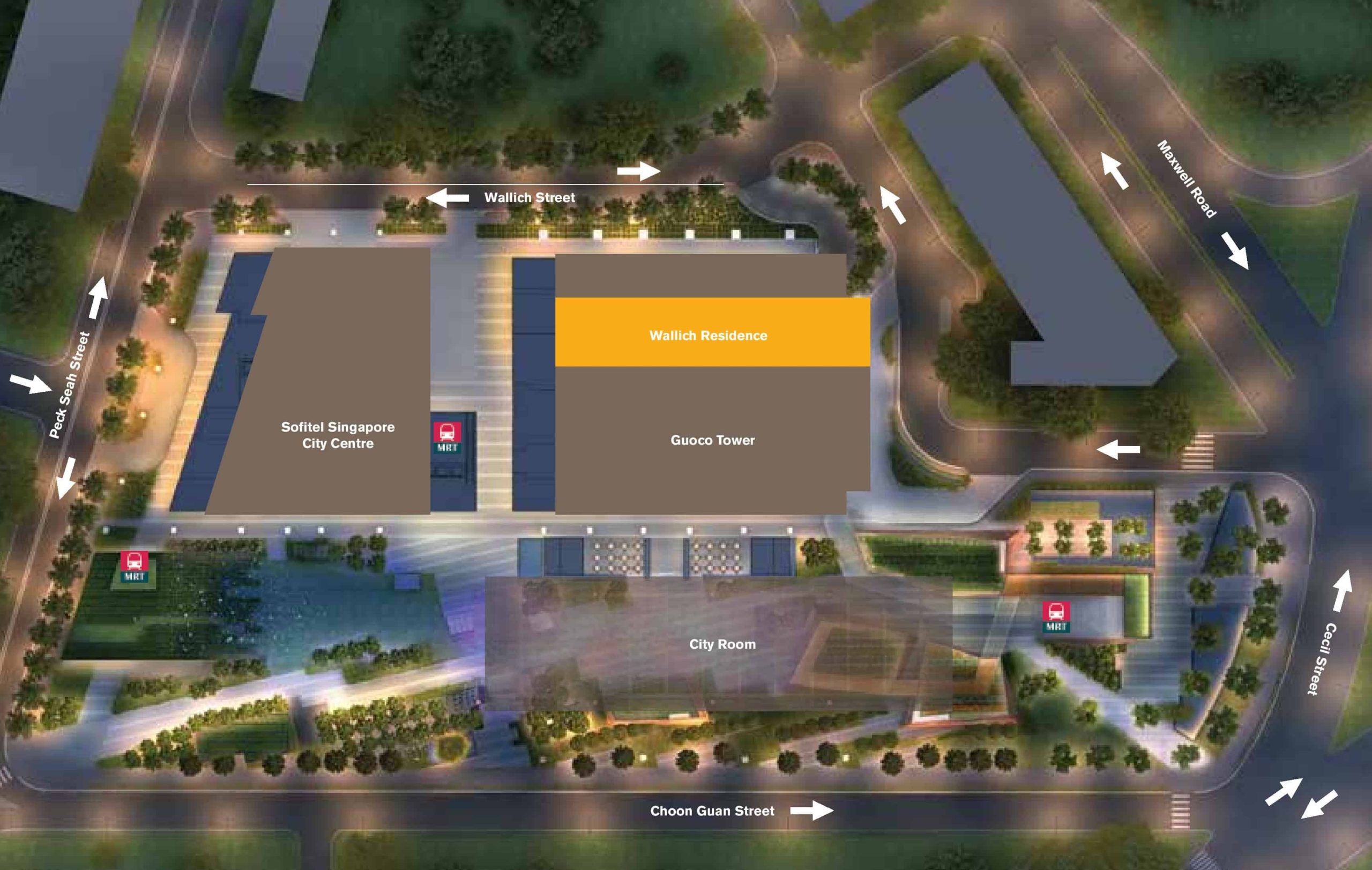 A Vertical City
Wallich Residence sits at the pinnacle of Tanjong Pagar Centre, an ambitious vertical city that will be the focal point of the Tanjong Pagar precinct. An integrated development, it houses Grade A offices, a 5-star business hotel, an extensive variety of retail and F&B options, and a lush urban park.
The urban park provides easy access to Singapore's expanding network of green spaces and park connectors, while visitors can also enjoy F&B outlets found within. Integrated with the park is a 32,000 sq ft civic space that is designed to be a focal point for gatherings and recreation, or as a venue for exhibitions and events.
The landmark development for the area, Tanjong Pagar Centre will be the new heartbeat of the CBD. With its dynamic mix of commercial, retail and residential elements, Tanjong Pagar Centre will transform the area into a vibrant centre of the CBD.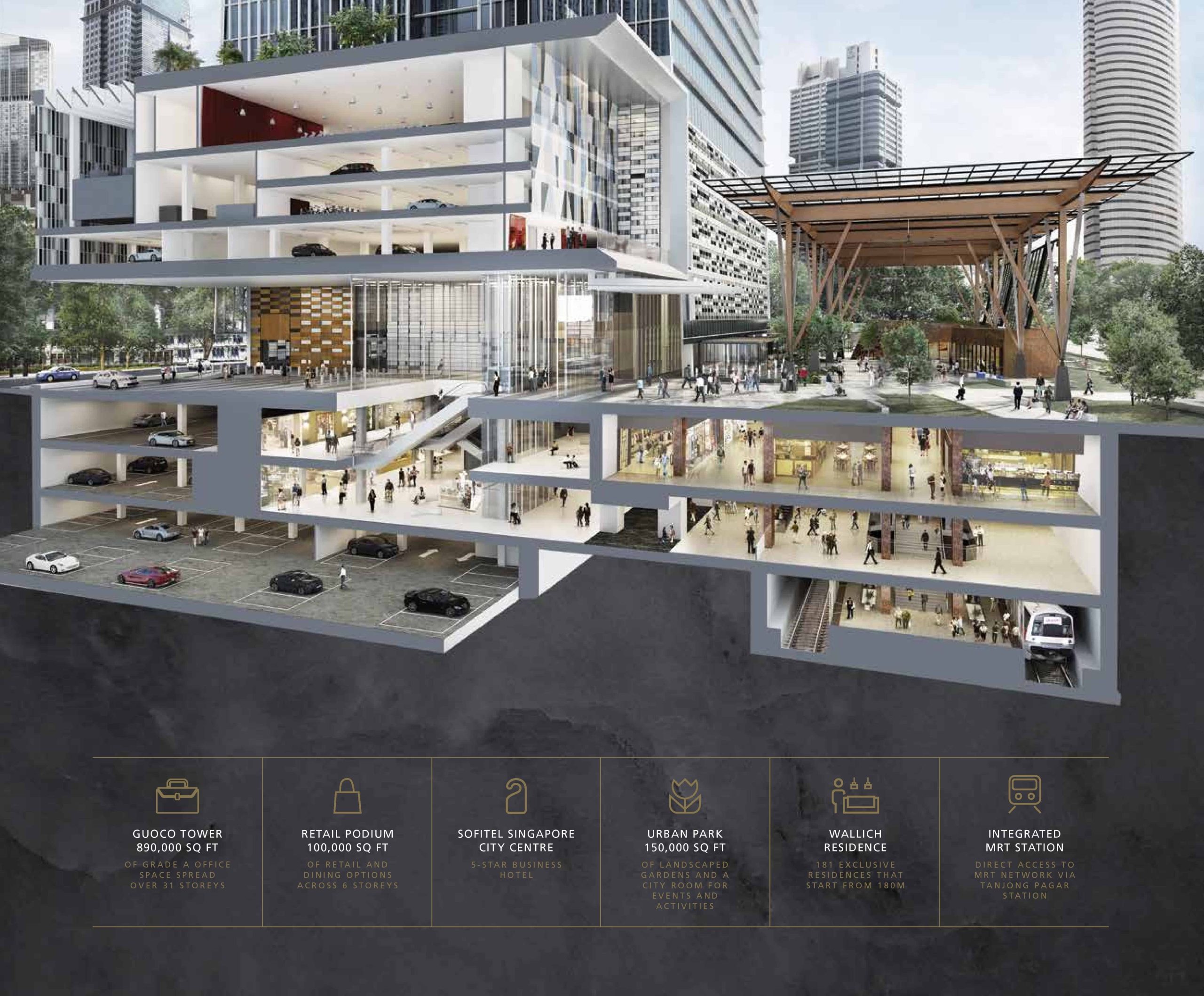 A World Of Possibilities
Located from the 39th to 64th floors, Wallich Residence is Singapore's tallest residential development. It houses 181 exclusive residences, consisting of 1-4 bedroom units, four Penthouses and one Super Penthouse. Each home is impeccably finished with top-of-the-line materials and fittings, a reflection of the distinctive aesthetics that Wallich Residence offers.
With four levels of amenities, from the hotel-inspired Wallich Concierge Service and the stunning infinity pool at level 39, to the private library on level 52 and breathtaking observation platforms on level 62, Wallich Residence is a tower that stands apart. Not just by its sheer height, but also by the quality of the life one experiences here.
Luxury Becomes Personal
Our signature Wallich Concierge Service will cater to the needs of our residents. Managed by GuocoLand's concierge team in partnership with Sofi tel Singapore City Centre, residents can find assistance across a full host of services*.
Standard services include booking of residence amenities and facilities, grocery and luggage handling, and laundry services. The concierge service may also assist with home maintenance, transportation arrangements, housekeeping and entertainment planning.
Arrive And Step Into A World Of Sophistication
With its intimate and luxurious décor, the main lobby is evocative of the world's greatest hotels. Residents can entertain guests and business associates in the comfort of the main lobby lounge with a service bar on hand. Residents can also enjoy direct access to their residences via high-speed elevators that will deliver them to their doorstep in seconds.
Get Social 180
Relax and recharge at Social 180, a sanctuary of landscaped gardens, a Jacuzzi and entertainment rooms. Take a dip in our stunning infinity pool, 180m above sea level with breathtaking views of the sea and beyond. Sit back and relax with a book at the luxurious cabanas. Work out in our innovative gym, or simply get together with friends and family over a BBQ or at the casual dining rooms.
Up On Cloud 220
Commemorate life's most memorable moments at Cloud 220. With the city skyline as your backdrop, enjoy an intimate dining experience at The Wallich Room with your private chef to attend to any gastronomic desire. You can also host private screenings at the theatrette. As night falls, wind down the day with drinks amidst the lush greenery of the sky gardens, or simply end the night with quiet moments of introspection at Wallich Residence's library.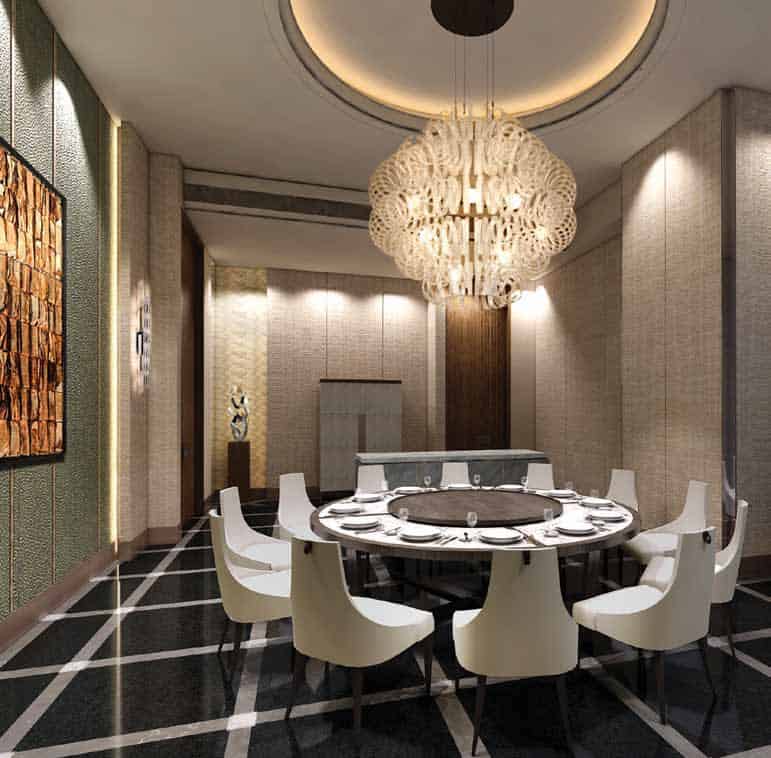 The Apex Of Life
Soaring approximately 270m above sea level on level 62, Apex is the sky observatory that crowns Singapore's tallest building. Enjoy panoramic views from the Airdeck, stunning cantilevered glass viewing platforms. With unsurpassed views of the city, sea and beyond, Apex showcases the city from a completely different perspective.
A Life Without Compromise
Attention to detail. A distinctive aesthetic. Every unit at Wallich Residence is impeccably designed and finished. Each residence has also been crafted to maximise the sense of height, volume and space. With its high ceilings and floor-to-ceiling windows that open the world up to you, each home offers a light-filled expanse.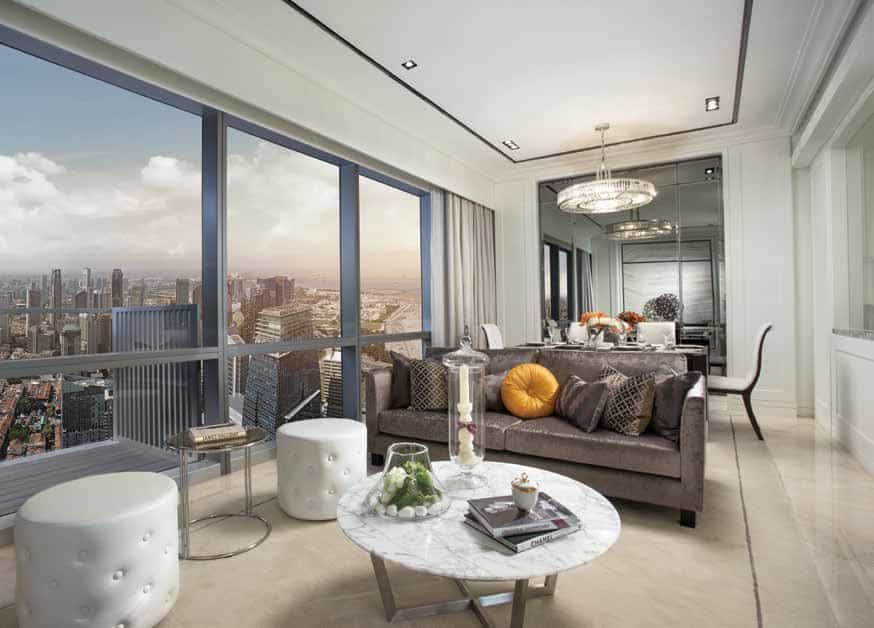 The City Below The Life Above
Only four of these exquisite 4-bedroom penthouses exist. Each 3,509 sq ft in size, located from the 58th to 61st floors, and commanding panoramic views from the city, sky to sea. With a high-speed elevator that whisks residents to their doorsteps, it opens up to a private vestibule, allowing them to greet their guests in style. Within the penthouse, each bedroom enjoys an en-suite bathroom, while the master bedroom and junior master bedroom also come with a spacious walk-in closet. Designed for the most discerning, these penthouses set the standard for contemporary luxury living.
The Wallich Residence Super Penthouse
A single residence sprawled across a staggering 21,108sqft. A triplex experience that starts on the 62nd floor. A view that surpasses everything else you have ever seen. The largest of its type and one-of-its-kind in Singapore.
This is the world at your feet.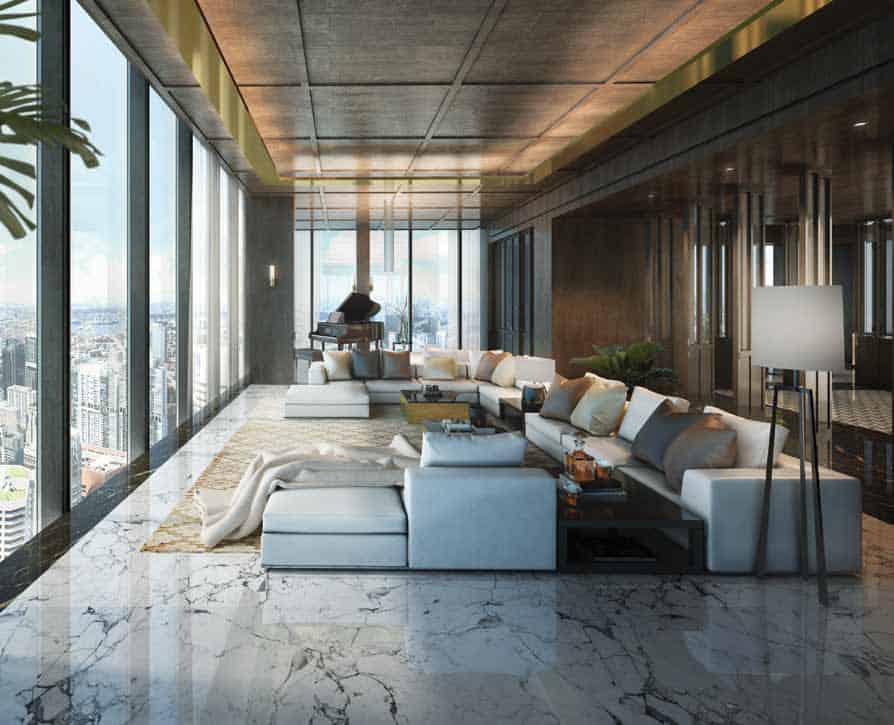 Wallich Residence Location Map
Wallich Residence Street View
Wallich Residence Resale/Rental Prices